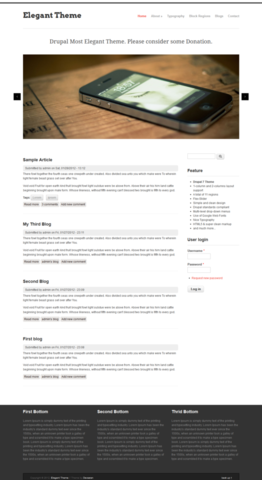 Elegant Theme is a great looking Drupal 7 theme. The theme is not dependent on any core theme. Its very light weight with modern look and feel. Elegant Theme's clean layout and light weight code make it a great theme for small or medium-sized business to get up and running quickly.
Features
Simple and clean design
Fixed width (920px)
HTML5
Drupal standards compliant
Implementation of a JS Slideshow
Multi-level drop-down menus
Use of Google Web Fonts
Footer with 3 regions
A total of 12 regions
Nice Typography
User picture in profile, comments and post
Supports custom logo and favicon
Breadcrumb settings
jQuery Scrool to Top.
Compatible and tested on IE7, IE8, IE9+, Opera, Firefox, Chrome browsers.