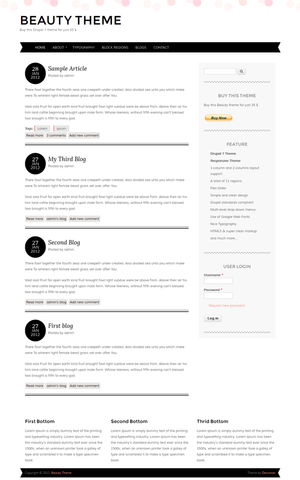 Beauty Theme is a responsive, feature-rich Drupal 7 theme which is perfect for any business, portfolio site that requires full mobile support and also wants a site that looks elegant, professional and awesome.
The fully responsive layout makes it so users on both computers and mobile devices can browse your site with great ease, so you will no longer lose potential clients!
Features
Responsive, Mobile-Friendly Theme
Simple and Clean Design
1-column and 2-columns layout
Mobile support (Smartphone, Tablet, Android, iPhone, etc)
Flex Image Slideshow with Caption (Customizable)
Multi-level drop-down menus (Multilingual menu)
HTML5 & super clean markup
A total of 12 block regions
Drupal standards compliant
Minimal design and nice typography
Ideal for business, company and portfolio sites
Extended footer area with 4 footer blocks
Detailed CSS rules for Typography, Forms Elements, Node Teaser, Comments, etc.