Submitted by

tomhardy

on Tue, 02/24/2015 - 22:49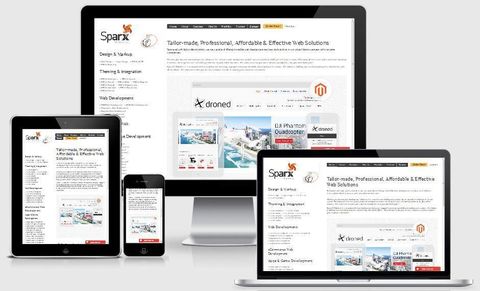 With the fierce competition prevailing in the online market, companies need to keep up with the latest trends and technologies in order to stay out of the crowd. The emergence of Smartphones and rapid increase in their usage have necessitated the development of websites that are compatible with multiple platforms, not just traditional desktops. Creating a responsive e-commerce site for your business is undoubtedly a great start, which enables you to capitalize the mobile era. Responsive design must be your top priority, if you are looking for the best ways to take your business to the next level, expand your reach and augment your conversion rates while keeping your users satisfied.
Responsive Web Design
Responsive design approach gives you a website, which is optimized for optimal viewing across distinct devices, screens & resolutions. In other words, we can say that responsive design adapts to all the screen sizes and offers an ultimate viewing experience to the users, eliminating the need to scroll left & rights or zoom-out/ zoom-in to view an image or read the complete text. It optimizes the users' navigation experience by creating a flexible layout for the web page.
3 Compelling Reasons To Consider Responsive Design For Your E-commerce Site !
Nearly 67% users claim that they are likely to buy from the mobile-friendly websites. But, the concern is whether business owners should have a separate mobile site or go for responsive design. However, both the options have their benefits and drawbacks. The companies that rely on SEO are heading towards responsive websites to target their mobile and desktop users. Here are top reasons to prefer responsive sites for your e-commerce business.
1. Google Search Engine Recommends Responsive Design:
Having 67% search market share, Google says and the marketers follow. Google recommends responsive web design as the mobile configuration and even refers it as best industry practice. This is due to the reason that responsive sites consists of same HTML and single URL, despite the device, which makes it more convenient for Google to index, crawl and organize the content. In contrast to this, separate mobile website with different HTML and URL requires Google to index and crawl its multiple versions. Moreover, Google prefers responsive design as the content lying on a site with single URL is easier to share than the content on separate mobile site.
2. Easy To Maintain:
For separate mobile and desktop websites, you will need specific SEO campaigns. Managing single site with single SEO campaign is far simpler than maintaining two websites with two search engine optimization campaigns. In addition to this, there are advantages of having a mobile-specific SEO strategy like optimizing for specific keywords that are likely to be searched while using Smartphone. For instance, if a user is searching for a local restaurant using his Smartphone, he is likely to use the phrase 'nearby' in the search query. There is no need to have a separate mobile site as these mobile-specific keywords can be used in responsive sites, which targets both desktop and mobile users.
3. Single Site For Many Devices:
Excellent user experience is one of the great advantages of developing a responsive website. This is an essential aspect as anticipating all the screen sizes and devices that customer will use to view your site is quite impossible. A website, which works perfectly on all the devices, will surely offer consistent and improved user experience than a separate mobile site, which is built for a specified device. For example, a user searches for an item on his Smartphone during the tea break at office. He found the product and noted down the site to continue researching at home. The user may like to visit the site using desktop and if its is mobile-specific, he will have to locate the site's desktop version, which may frustrate him. On the other hand, if the website is responsive, the user will have positive experience on both mobile and desktop.
Some Inspiring Examples Of E-commerce Sites Using Responsive Design
Responsive websites help online retailers appeal their customers, who are swiftly shifting towards the mobile devices and still expect their viewing experience on desktops to be as smooth as mobile experience. Going responsive is an effective way to drive maximum traffic by targeting desktop & mobile users and offer them the best possible shopping experience. A few attractive sites that use responsive web design approach include: Currys.co.uk, Skinnyties.com, Folksy.com, Mulberry.com, Godiva.com, Magazines.com and Hickoryfarms.com.
Author-bio - Being a skillful web developer at Sparx IT Solutions: Web Development Company , Tom Hardy remains busy in researching and learning about the latest e-commerce trends & technologies. His love and passion for new technologies motivates him to share his creative knowledge on several topics like need for responsive design and e-commerce development with people through various blogs and articles.