Submitted by

technource

on Mon, 12/21/2015 - 01:53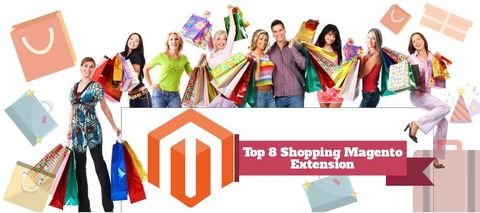 It is essential for businessmen to create online store for getting much sales from the Internet. Most of them choose Magento as a development platform. At start up base, it is difficult to compete with famous online stores but not impossible. Here we have described top 8 Magento extensions that must be in your store that will help to increase conversion rate. If you are newbie or going to customize your market place for better customer engagement and traffic, install these below extensions on your store as soon as possible.

There are many multi vendor extension available for Magento store. Choosing the appropriate one for marketplace is the first step for any online store. It allows admin for various capabilities in admin panel. In general words we can say that one can easily manage shipping, vendors and much more at just one place. Within a simplified dashboard, admin can track orders, billing, customer management, products etc. It shows the data about sales, revenues and also one can check when to cut costs or increase sales. I recommended Marketz - Multi Vendor Marketplace.

Paypal is a famous payment gateway for online buying/selling. It should be present in your online store. Here are some of the features of this plugin. Customers can easily save their credit/debit card information at the time of checkout and no need to fill up such details again during next orders. Credit/Debit card data is not stored on website but it stores as a secure token. It is totally free, got 4.8 stars out of 5 and has 1206 popularity score.

This extension provides secure online transaction from mobile devices without any hassles. This extension supports and accepts all type of debit and credit cards like Visa, master cards etc. It protects personal details like credit card information and reliable to use it.
Features:
It supports for all products
Available for free trial
Supports iOS 7.0+, Android 4.0+
Support multi currency
Easy checkout process
Push notification
Multi language support

Till date I haven't seen any magento store without this extension. It helps to increase your click through Rate (CTR). It makes your store products search engine friendly by adding appropriate page titles, meta descriptions, keywords. If you have not install this plugin then do it ASAP, add information and check out after few days, your store's performance will be increased. You can see how your product/page will be shown in real search engine while typing text. It's totally free to use. Again I say that it must be installed in your web store.

For any web store, it is necessary to aware their customers and subscribes about latest products. It can be easily done by sending emails to them. MageMail is the best for sending mails to subscribers in bulk at just few clicks. It is called as a triggered email solutions because it allows admin to set emails to be sent whenever you want or certain events happen on store. It will help to find out that which email is best for particular situation, manage and monitor results. The best thing about this tool is that you only need to pay money if you get profit from it. I think this is the reason why it is in the top 7 Magento Extensions that must be in any online store.

It's a paid version starting with $17*/month but it will be negligible for you after reading its features. We know that customer is king and no one want to keep away from him. Olark chat extension is one which can keep your customers engaging with you all the time. It allows operator to address issues immediately rather than waiting for tokens. Download extension, read the instruction, install and be engaged with your customer 24X7.

Customers do not love long checkout process and refuge to buy from such stores which have lengthy and complicated one. Simple and easy process increase reputations and sales indirectly. One Step checkout is an extension that is used to improve process by reducing intermediate steps that are not necessary. Due this feature, it is one of my top 8 list. Download it, install and provide your customers hassle free shopping experience.

Who don't love discount, offers and deals; everybody loves it. A competition is too much high for online retailers and difficult to stand in market. Deals and offers attract customers and helps to stand in competitive online market. It can be achieved by daily deal extension. It makes things easier for admin to post, update and publish deals. Features of this extension can't let you go away justify installing.
Conclusion
I hope that after getting full information about the above extension, you will install in your store if not installed before. If you have not sound knowledge of Magento then it is better to Hire Magento Developer instead of DIY.
Author Bio : Renu is working with Technource for last two years as a Magento Expert. She is techie person and loves to write on web design and development tactics on behalf of Technource - an Outsourcing Web development company.