Submitted by

katerosie

on Mon, 06/08/2015 - 00:39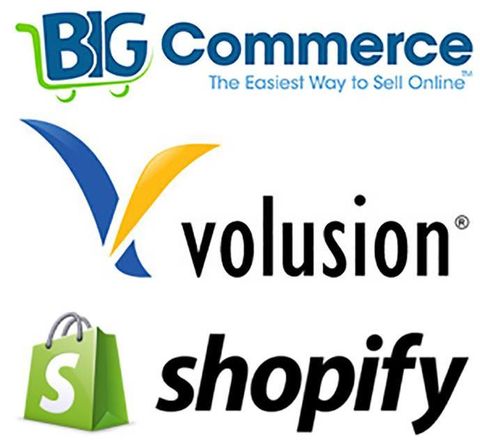 The way people used to shop in the past has greatly changed and now they use every possible means for shopping including the use social media, desktop computers, mobile devices and wear apps. Therefore, setting up an online store has become a major task and one has to keep a number of important things in mind including the choice of using ecommerce platforms which can be divided into two basic categories called hosted and self-hosted. Both of them have their own advantages but the choice depends upon your basic requirement.
Hosted and Self Hosted Platforms
A platform that hosts the store is called hosted while the self-hosted version simply provides clients with software but the site needs to be hosted by the clients themselves. In this article, we will discuss only hosted versions as they provide more stability and the chances of facing some kind of technical issues are almost zero because of the dedicated support from the service providers. In this category, there are three major options which will be discussed in detail to help you decide what can be best for your business.
Shopify
Shopify has become one of the major e-commerce platforms in the world because of its unique features which are hard to find in other similar platforms. As mentioned above, customers are not just limited to local shops and have started utilizing every possible way for better shopping experience, you must work in multiple ways to reach maximum number of customers and this is what has been made possible by Shopify. Some of its great features are described below:
Professional Themes - You can choose one of the best themes from hundreds of available option for your website and the most noticeable thing is that all of the themes have been designed by some of the worlds' most renowned designers including Pixel Union.
Mobile Commerce - Another great feature of Shopify is built-in-mobile commerce shopping cart which will allow customers to browse store categories on tabs or phones and this will surely be resulted into more sales.
Expert Support - Shopify has a dedicated team of experts who will be working with you when you need to customize your online store.
Blogging Platform - The site will also allow you to use full featured blogging platform which will enable you to create categories and publish variety of articles. Moreover, you will also be able to motivate users to have discussion and give their feedback and comments.
Payment Gateways - Shopify can integrate more than seventy payment gateways in your store from PayPal to Bictoin, all the popular and secured gateways are available for the customers.
Multiple languages - The availability of more than fifty languages makes it much easier to translate checkout as per the requirement.
Manage inventory - You can easily manage your inventory and the system will allow you to add products and make changes to the prices.
Volusion
Volusion is another popular hosted platform but if you compare it with Shopify, you might notice that the customization options are not as many as Shopify offers. Though, volusion has come up with great options and support materials, some people still find it difficult to use because of the complications involved in the process. Some of its good features are described below:
Beautiful designs - The platform offers a large variety of design templates including premium and free versions and when you choose any of the templates, you can easily get a user friendly and attention grabbing website for your online business venture. The templates can be customized to meet your specific requirements.
Manage Products - You can easily create product categories and listings in details with images as well as videos which will surely allow you to have a large variety of items in your stock without facing any trouble at all. You will get access to an inventory monitoring tool that will further add convenience to your stocking.
Attract Customers - You can also get access to built-in SEO, social media and marketing tools which will help you promote your brands to attract more shoppers to your online store. With the help of tools, you can send emails, post information stuff to social networks and also create deals on every day basis.
Payment Gateways - Many customers are deprived of shopping online because of unacceptable payment methods which badly effect sales. However, Volusion will allow you to integrate all major payment gateways in your site which will also ensure quicker payment procedures.
24 Hour Connectively - Android, iOS and other wear apps have made it much easier for the ecommerce business owners to keep their stores operative 24 hours a day. You can now easily process online orders, edit or add products and view current sales results in real time whenever you want.
Customer Log - You will be able to create customer log in area and it will be completely up to you either you would like your customers check out anonymously or create an account before they are allowed to make purchases on your site.
Coupon codes - The platform offers various plans and in almost all of them, you can get coupon codes such as free shipping, percentage or fixed prices etc. You can also set up quality limit and expiration date.
BigCommerce
BigCommerce is the third most popular platforms for building ecommerce website and it has also come up with large variety of features which have made it one of the best ecommerce platforms among many others. Though, it is missing some of the features which you can find in Shopify and Volusion, it is still a great option and one thing which is making it dominate on others is its friendly admin panel user interface. Check out some other features to figure out if this is the best option for you or not.
Get Smart - When you are using BigCommerce, you can easily create a very nice looking online store for your customers with the help of themes, tools and support from expert designers.
Unlimited Features - A very noticeable feature of this platform is that it brings you solution package for everything from search engine optimization to marketing and product reviews to analytics, every problem has already been resolved.
Ready to Use Apps - You don't have to worry about third party accounting, inventory and marketing management systems because hundreds of software and apps have already been integrated into the system which will surely help you run your business smoothly.
24 Hour Support - The platform provides 24 hour customer support which means you will not have to worry about the solution in case your site undergo some kind of technical issues. You can also get access to tutorials, support articles and community.
Payment Gateway - As far as the payment methods are concerned, you will be allowed to set up most secured gateways for payment such as Simplify, Stripe or PayPal.
Built-in marketing - BigCommerce has integrated a large number of marketing tools including social media, discount codes, customer lists, newsletters etc.
Sell Wherever You Want - One of the major features of this platform is that it will allow you to take your products to the customers no mater wherever they are including Facebook and eBay.
About the Author
Kate Rosie is a content writer and an online marketer at Best Essay Help UK and also she has been working for the last five years in ecommerce industry.