Submitted by

antoniortooley

on Mon, 02/08/2016 - 07:56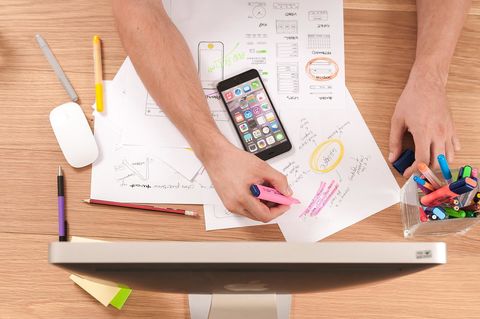 Whether you're aiming to get your startup business off the ground, get your blog more popular, or advertise your products or services to the general online public, you will need to focus on how to produce effective, aesthetically pleasing, and regularly updated content. It is that very content that will be your face online, so you need to make sure it is as good as it can be.
However, the sheer diversity of online multimedia is astonishing, which means that you not only need to be aware of all the current trends, but be able to implement them through the content you post on your website as well. Sounds simple enough, but it also requires you to know your way around a phrase or a sentence, as well as image, video, and audio editing, and possibly even infographics. Also, ideally, you would be capable of publishing all of that, while never losing sight of SEO and social media presence.
If your head is already spinning, don't worry, because there is a solution. There are plenty of tools and resources online which can assist you in creating content your readers won't be able to resist. We have chosen the following 12 to get you started.

Brainstorming with your collaborators can be made more efficient and streamlined with the help of RealtimeBoard, which acts as a virtual whiteboard onto which you can paste your ideas, notes, comments, sketches or images. It enables real-time collaboration and visualization of your projects, which can be easily saved and accessed whenever you see fit.

Fleshing out ideas which are constantly escaping you can be achieved with the help of Bubbl.us, one of the most popular online tools which employs mind mapping techniques in order to take brainstorming and idea-developing processes to the next level. In essence, the app helps you create through use of interactive visual maps. Start by entering your idea into the first bubble, and watch your ideas begin to take shape.

Conveying your ideas to your readers in a way that is intriguing, seamless, and concise is imperative, but if you are not the most talented writer out there, it would be a good idea to rely on some professional help. We recommend that you check out EduGeeksClub, one of the leading online writing services, whose professional writers and editors will help you craft incredible written content on a regular basis.

Figuring out what sort of content your customers/readers want to read is difficult to pull off, because it requires a lot of work. But, it doesn't have to be that way. Sometimes, the best thing you can do is to simply ask them. Help Me Write is a platform which allows you to receive direct feedback on your content ideas, from real people.

Pixlr is a browser-based image-editing app which represents a cheaper and simpler alternative to Photoshop. This tool allows you to make basic image changes, such as cropping, or conversion to black and white, as well as some of the more advanced ones, such as spot healing, or red eye removal. Also comes with a bunch of built-in photo filters.

If you want your content to really come to life and become truly interactive, we suggest you try out Thinglink. Thinglink allows you to annotate images, video, and audio with both text and other types of multimedia, such as audio, videos, infographics, and other images. It's really hard to describe, until you check it out yourself. Media-rich content unlike anything you've seen so far.

Easel.ly is a tool which enables you to create some eye candy for your website, and by eye candy we mean: infographics. With this app, you no longer need to shy away from making infographics yourself, just because you're not a designer. Thanks to a huge selection of pre-made templates, you will be able to make your own in no time, once you get a hang of it.

One of the most common mistakes content creators make is to neglect the power of audio content. Even if they don't, they still have their work cut out for them, because audio editing can be a complicated process. However, TwistedWave is an audio editor which you will be able to use almost instantly, just because it's so simple. Upload files from your computer, Google Drive, or SoundCloud, and you're good to go.

Having some video content on your website or blog is an absolute must nowadays, but if you are already cringing from the thought of having to use complicated video-editing apps, you may want to give VideoToolBox a shot. It allows you to upload video files from your computer or download them from sites like YouTube or Vimeo, and perform complex edits, such as cropping, merging, cutting, inserting watermarks, and so on.

Jing is an online resource which enables you to easily capture what's happening on your computer screen, by taking screenshots or video. This sort of functionality really comes in handy if you are looking for an intuitive, but effective tool which you can use to create tutorials and instruction videos.

It's fair to say that Grammarly needs no introduction, being the most popular online grammar-checking app out there. In order to keep all of your written content error-free, run it through Grammarly, which will not only highlight all of the mistakes in the text, but provide suggestions on how you can improve the quality of your work.

You can make the titles of your posts more clickable by having CoSchedule Headline Analyzer pick them apart and rate them based on their originality, effectiveness, and search engine optimization. You can apply these suggestion in order to come up with more intriguing headlines.
Basically, Canva is a simple, drag-and-drop, design software that's completely online and free to use. It gives you everything you need to easily turn ideas into stunning designs. Create designs for Web or print: blog graphics, presentations, Facebook covers, flyers, posters, invitations and so much more. It's been a very exciting adventure: we've been around for just over 2 years and already have 7.9 million users.
By introducing these 13 amazing tool into your your content creation process, you will no longer struggle to come up with relevant, informative, and fascinating content on a regular basis, and leave your customers craving more.
About the Author
Antonio is a hopeless optimist who enjoys basking in the world's brightest colors. He loves biking to distant places and occasionally he gets lost. When not doing that he's blogging and teaching ESL. He will be happy to meet you on Facebook and Twitter.