Submitted by

shahid

on Wed, 12/10/2014 - 02:16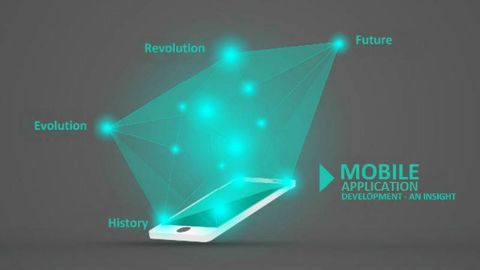 This has an insight of the app development industry from past-to-future through demography, social impact and other affected factors. It also has that through other effective factors with numeric and graphic data in one time. There are 11 subtopics that will define how mobile app arena is covering whole world of new generation.
1. Overview
The process of software creation for mobile devices is called mobile application development. It is basically a computer generated program designed to run on smartphones and other mobile devices.
2. History
The first mobile phone call was made publicly by Martin Cooper of Motorola to Dr. Joel S. Engel of Bell Labs on the 3rd day of April 1973. The instrument weighed 1.1 kg measuring (23 x 13 x 4.45) cm.
It took two decades of R&D to get first mobile application for smartphones. The credit goes to IBM Simon, who introduced the world with the first smartphone with applications. It had a calendar, address book, clock, calculator, notepad, email, and a touchscreen with a QWERTY keyboard.
Nokia came up with simple gaming apps like Snake, Pong and Tic-Tac-Toe. It was in early 90s, when Psion EPOC introduced first mobile application for a PDA. Later EPOC became the backbone of Symbian operating system.
Mobile manufacturers kept their secrets guarded, and the app development was limited to in-house only.
3. Evolution
After the introduction of first mobile phone application in early 90s, it never looked back and grew by leaps and bounds. First SMS application was introduced in early 90s. In late 90s, SMS communication became a craze in younger generation, but spread across all the ages.
By that time, Digital Cellular Network System 2G was in operation. In 1998, the first downloadable media content of mobile phones was sold as ringtones, launched by Finland's Radiolinja (now Elisa). It was in 1999, when NTT DoCoMo integrated Internet with mobile phones in Japan.
Mobile phone manufacturers started providing more apps meeting an increase in user demands through Internet by using WAP technology. Though receiving an app through WAP was complex, and it needed an attention to simplify it. User's demand was of more entertainment and business through mobile applications.
By this time, more mobile phone manufacturers came into the picture, and the cost of device developments was already reduced drastically. Some manufacturers started using platforms like Windows and Linux for their application development requirements. From here, the app development started to get simplified.
RIM built, upon the success of IBM Simon, Blackberry with Email application. Which is still a very popular application among app users. App users were still dissatisfied with what apps they had till then. It was in 2007-2008 when Apple released its first iPhone and then App Store.
4. Revolution
Steve Jobs was the man behind it. The App Store of Apple revolutionized the world of mobile applications development. The store offered all apps available in the contemporary market. Access and installation of apps were very easy procedures, which was revolutionary.
The establishment of App Store was phenomenal for app development companies. This opened up the whole new world of opportunities for the app developers all across the world. In addition, it started giving what the market demanded in 80s and 90s.
The Android hit market a few months later only. HTC released first Android phone. It was in 2009 when Apple Store cloaked one billion app downloads, and Android took just one more year achieving it. To beat the competition with Android, Apple released its first iPad giving app users a unique way to use applications.
They had applied the theory of as things are readily available, they will grow markedly. Both Apple and Google Play Store (Android) were open to developing own app and publish on their stores. It was a silver line for application developers. It was in 2011 when app usage left well behind the mobile web usage.
5. Demography
At this Demography section, let's have a look on the top 10 countries in terms of cell phone users.


Now, let's have a look on the number of application users in the following ten countries in comparison to mobile phone users.


Ever since Apple had introduced its first smartphone, the app market has been thriving for more. The app market is seeing the revenue of over $25 billion per annum (and still growing). There is no sign, at all, of saturation.
The year of 2014 is witnessing 138 million app downloads in a single year, with an estimation of downloads by the year 2017 reaching 268 million.
As per the CNN report, the year of 2014 has been witnessing more number of smartphone and tablet apps users than PC users. Among app users games, education, business and lifestyle are the most popular categories in 2014.
A complete ranking of foremost activities is described below.


Source: onbile.com
As per Flurry Analytics, China surpassed the United States in smartphone and tablet app uses. And, about 67% of all app sessions in the world is from outside United States.
Brief stats,
Total iPhone app downloads: 30 billion
Total Android app downloads: 15 billion
An average no. of apps per smartphone user: 41
6. Social Impact
Today, more than a billion people are using smartphones and mobile applications. It is impacting every aspect of our daily lives. In terms of business, great opportunities exist since 2008, the year of the inception of first iPhone.
About 80% time on smartphone is spent on mobile apps. For instance, according to Flurry Analytics, 2 hours and 38 minutes are spent on a daily basis by U.S. smartphone users. Out of this, 2 hours and 7 minutes are spent in apps using.
Consumers and businesses alike are using mobile apps for everyday activities, e.g. mobile banking, e-ticketing, weather report, mCommerce and the list goes on.
The skyrocketing success of smartphones and tablets reflects the ever-growing demand of the gadgets especially for having mobile apps. Due to unprecedented apps access, enterprises have a great opportunity in their business activities. It emphatically facilitates the following.
Quick communication
Save time and increase productivity
Improved infrastructure
Increase in job vacancies
Less power consumption
Considerable cost savings
Entertainment
7. Training
By witnessing the highest growth rate any industry had in history, mobile application development training institutes mushroomed. Not only private centres, but universities also started courses for the subject. Some of the well-known universities of the world has started full-time graduation degree programs like B.E./B.Tech in Mobile Application Development.
The supply is just to cater the enormous demands from all over the world. The beginners are left today with a varied choice of training in various apps' development.
8. Developers
As per Evans Data Corporation, today there are 19 billion software developers worldwide. And, by 2020, the number would grow to a whopping 25 billion. There is a shift in growth rate of a number of developers.
Nowadays, India, China and Russia are seeing rapid growth in the number of app developers as compared to the first world countries that produced more developers once.
Requirement of apps is buoyant in developing countries. Behaviour of app users geographically varies due to cultural differences. If in China demand of action related apps are more, in Japan it is for brain boosting such as puzzle apps.
To remain competitive in the market, the developers must understand the taste of users. Only translation of the content of app to a concerned native language is not going to help, but it is the zone-specific genre of the app that will make the difference.
Somehow the developers from the first world countries need to ponder over this point to capture more market share. If the Angry Bird app can make a viral worldwide, then why not other apps. Developers need a study on it.
9. Simplification
The growth asked for better cognition and more research. It's always a challenge to meet a user's satisfaction level. Mobile application development process has been simplified as much as it could be.
Apps can be developed without any programming, says Sandeep Mundra, while introducing Configure.IT as a PaaS which offers a complete mobile application development platform to make apps online with just an easy drag-and-drop feature.
It is a unique tool in which other PaaS companies lacked so far. A real-time preview with just a splash of the device screen and without following compilation process with each change is simply revolutionary. Importing .PSD files and converting it into app design or app UI is yet another unique feature.
For a mobile application developer, this is no less than a boon because for them, writing a thousand-line coding was quite repetitive and bothersome. After all, a browser-based online tool which requires no XCODE or MAC OS to develop an iOS app eases up all their concerns.
Configure.IT helps...
Increase productivity without increasing human hours
Reduce the phase of 'knowledge shift' and the human dependency
Quicken the development process without compromising on quality
Lessen the overall production cost
Probably you may think that numerous tools are available in the market, but easy-to-handle, simple and capable of giving desired output are the characteristics that very few tools have. Comparison always makes easy to understand productivity strength of everything like tools, currency, even employees.
10. Future
After six years of tremendous growth, it is still bright and rosy. This industry is still seeing a growth rate of 7.9% per annum and increasing year-by-year. What golden gloves application developers are wearing, only they can say!
A tribute to the model of the industry devised by Steve Jobs. It's only he who gifted us a golden tomorrow that has a positive impact on our lives.
11. Useful Links
Image Credit: Freepik.com
Author Info: Shahid Abbasi is a writer and content strategist who specialize in helping online tech startups. He's admin of technology and web design blog EthicalWeb. You can find Shahid on Google+, Twitter and LinkedIn.