Submitted by

jaymanangan

on Sat, 01/23/2016 - 09:16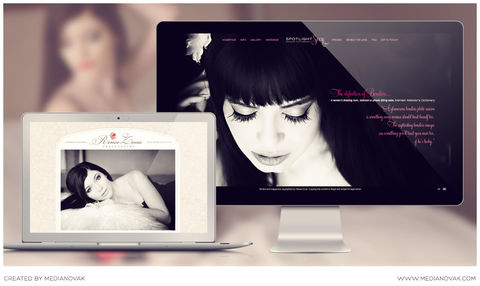 A photographer has a unique problem when it comes to promoting their services. They can't just talk about what they can do; they have to show it. Because clients tend to have different needs and perspectives, there is no one-size fits all when it comes to showcasing your work. You should show as many samples as possible, which can be a problem when your portfolio is online because of the loading time. It often comes down to a delicate balance between a big enough portfolio to snag the attention of as many potential clients as possible, and small enough to keep them from clicking away in impatience. Here are some tips for creating the perfect photography portfolio website.
Creating a photography website
When you first make a website for your portfolio, you need to plan for three elements: the photos, contact information, and a succinct description of the artist (you). The gallery of photos is of course your biggest concern because the images need to show up clearly but be small enough files to load quickly. You also need to decide on the type of structure that will work best with your website, so you need a platform and a host. Here are two basic decisions.
Format
There was a time when flash websites was very popular because it was interactive. However, for an already image-heavy website, using flash is not a good idea because they are essentially movie files and load slowly. In addition, flash is not mobile supported, so that means flash is out. Opt for an HTML5 based website, instead, which lucky for you is readily available on many popular platforms. You can learn HTML 5 for beginners, but it is not necessary with the likes of WordPress, which is idiot-proof for non-coders.
Hosting
Creating a website using WordPress or another platform is one thing; choosing the best hosting provider is another. WordPress offers free hosting using a wordpress.com domain name, which can work, but you may want to make your website a little less generic by paying for your domain name, and purchasing space for your own private little world from a reliable hosting service. You also have more flexibility and control over your website, which you want. It is not even expensive to get both. A simple self-hosted website on a reliable hosting service provider comes out to less than $6 a month.
The importance of self-hosting using a good hosting provider is in the support. You want your website to be always up and worry-free, so you should choose a provider that has primo customer support and a track record for reliability. Here is a short list of sites you can use as a hosting guide specifically for building and hosting image-heavy websites for your consideration. Prices do not include domain name registration.
Squarespace - You can take heart from their motto "Build It Beautiful," and you can for $8 a month for 20 pages. If you want more e-commerce features, the $26 monthly plan is your best option.
SmugMug - SmugMug disdains the use of templates, and offers website owners a choice of "styles" to customize their pages. The service specializes in portfolio websites, and their prices are fit for all struggling artists, ranging from $3 to $25. The power package at $5 a month is probably the best pick.
Zenfolio - If you would rather not customize your website, you can check out the preset designs on this service specific for portfolio websites. You can still tweak them if you like, but much of the heavy lifting is done for you. All you have to do is insert your images and information, and hey, presto! You're done! This has a lot more features than most hosting services, but it can get pricey. Plans start at $60 a year, but you can't use your own domain name and has bandwidth. For more freedom, the unlimited plan is $240 a year and up.
Making your photography website search engine friendly
Okay, now that you have your website up and running, your next step is to get people to see it. For that, you need to make your website search engine friendly, or SEO. Yes, we're going there. And yes, you have to care. Chew on this: the top 3 results in any given search gets as much as 80% of the traffic. Convinced yet?
It is understandable that you want to focus on the images, not the text. However, most people use text to search for sites, and for that you need content. However, it doesn't always mean you have to have articles on your site, although a blog can help immensely. If you really don't want to go there, here are some easy ways to help you rank better on search engines.
Choose a kickass domain name - This means, short, easy to remember, branded, and specific. Avoid using hyphens, and use the popular keyword "photography" in its entirety when possible.
List locally - You can register your website free with Google and Bing for local listings. As a service provider, you want to be able to accept gigs in your local area, and you will be easier to find by local clients looking for the services you offer.
Insert keywords in your meta fields and captions - You can still cash in on keywords by using them in your image description. Most websites also have meta fields where you can cram as many keywords as you naturally can to make your website easier to find.
Check if your website has a site map - Most platforms generate a site map for each website, which helps a lot when search engines index a website for searches. However, some don't. You can check if yours does by checking with the developer. You can also create your own using an XML sitemap generator and submitting it to the appropriate section of the search engine.
Where to showcase your work
You probably already know that the easiest, fastest, and most effective way to showcase your work is through social networks. If your don't, well...it is. However, there are sites and there are sites. Some are just better tuned for photography than others are. If you are thinking Instagram and Pinterest, then you are on the right track. Here are other photo sharing sites that may not be as popular but where serious photographers can catch the big fish.
Flickr - You can create public albums that potential clients can browse, and it is a searchable site. You can also join photographer groups which are great places to pick up tips and tricks. You can also use it as a backup cloud server for your nicest pics.
500 px - This site limits you to only 20 of your best images for the week for a free account, and that's because it encourages quality rather than quantity.
Of course, you can always use Facebook, Twitter, and Google+ to good purpose. The more the merrier!
Creating the perfect photography portfolio website is just like framing your shot. You have to have all the elements in place, and tweak your settings so that everything in the frame makes sense. The purpose of a portfolio is to showcase your work. It is all achieving the right balance between artistry and marketability, and focusing on getting the word out to the right people.