Submitted by

avinash

on Fri, 06/05/2015 - 01:52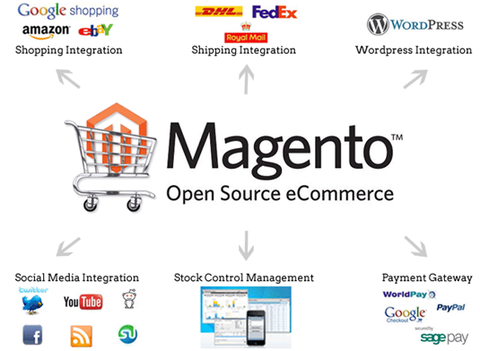 Ways of shopping has changed significantly in past few years. Earlier shoppers used to visit offline stores and malls for buying products, but with massive outburst in internet usage in recent years, people have shifted their focus from offline shopping to online shopping. People prefer to shop at the comfort of their home and online shops give them surplus opportunities to compare, choose and buy from a wide range of products. However, with the rising trend of online shopping, retailers too have shifted their focus from setting up offline store to creating online store on a user friendly platform where visitors can shop with convenience. There are many ecommerce platforms available in the market for the retailers to choose from, but Magento is one of the most admired and popularly accepted ecommerce platforms due to its extensive range of user-friendly and SEO-friendly features with striking functionalities. Moreover, it is an open source platform that makes it convenient for the developers and the store owners to make the changes in the source code according to their requirements.
Here is the list of some remarkable features of Magento that gives it an advantage over other ecommerce platforms:
International support
Multiple language facility
Easy to browse products ability
Multiple currency support
Shipping
Apart from these features, what makes merchants and retailers fall in love with this ecommerce platform are a bundle of out of box features that are great to explore and worth to know.
1. Amazing SEO Friendly Features
Magento has loads of SEO friendly features to talk about and this is what makes it a perfect choice for ecommerce retailers as they don't have to put many efforts for optimizing their stores to increase their visibility in search engines. You can easily structure the XML sitemaps, URLs, Meta tags for category, products, and content pages, no index and nofollow commands, pagination etc. through the admin dashboard without doing any changes in the server sides.
2. Scalability - Make Your Store in Your Own Way
If you want to make your online store as per your requirements, then Magento is best suited for you. This ecommerce platform is known for its scalability that allows the developers to make the changes in the source code of their website to include features according to the business requirements. The scalability of this platform helps in adapting business requirements very conveniently. Moreover, the store owners can also make the changes very easily with the assistance of developers as the backend and the admin dashboard comes with a user friendly interface.
3. Support for Global Functionalities
When you choose to create you store on Magento, you are also freed from the worries of incorporating features for international support. An open source platform, Magento comes equipped with internationalization support for multiple languages, multiple currencies and taxation issues. There is a configurable list of allowed countries for certain features like EU cookie notification, European Union VAT-ID validation etc.
4. Flexibility That Makes Customization Easier
When it comes with Content Management System (CMS), Magento is highly flexible platform that make customization on the tip of the fingers for the developers to implement. The open source architecture of Magento allows the developers to create differentiated ad rich consumer experiences for multiple devices and customize the workflows at the backend to suit different business requirements. It means you can control the feel and look of your online store completely that helps in revamping your brand and offer pleasurable customer experience.
5. Mobile eCommerce Supported by Magento
Magento has recently integrated HTML5 that has added another new advantage of this evergreen ecommerce platform. With the addition of HTML5, now store owners can make their online stores responsive for targeting the mobile users. This offers them an excellent opportunity to make maximum profit through their online businesses. Moreover, it will also make it easy for the mobile phone users to shop from their online store from anywhere, anytime.
6. Integration for Third Party Software
This is one of the most striking features of Magento that makes it stand apart from its rivals. Being blessed with world's biggest ecommerce platform, Magento can easily integrate with third party applications and software that are essential for your business. There are numerous solutions and extensions compatible with Magento are available in the market that is important for the growth of your business. Using the third party software like Google Shopping, PayPal, Google Analytics and Ebay makes your online store very user-friendly for the customers.
7. Easy To Use
You can easily display your products on your product pages as the platform has a very simple and clear platform that allows the people to navigate across the website conveniently. It also makes it easier for the customers to search for the products they are looking for. Besides, the other features that makes Magento user friendly are zoom-in ability, multiple pictures of the products and product reviews.
8. Enhanced Security
Security is the first concern for the online store owners because they have to carry on very important financial transactions on a large scale every day. If you don't have a secured platform, then it might risk the financial transactions taking at your website, which can cause loss of money for both the store owners and users. Magento understand the essentiality of security and hence, it offers a much secured platform for offering users a sense of confidence and protection while carrying out their transactions. Magento EE comes integrated with Secure Payment Bridge that offers PCI data security standard for better protection against unauthorized access and theft.
9. Feature Set Platform
One of the most important reasons to choose Magento over other ecommerce solution is its feature rich inheritance. This platform has the ability to excellently handle the concepts in an organized manner owing to the rich bundle of features added with it. You can easily manage multiple product pages at a time flawlessly.
10. Works with Every Budget
The complete budget for designing and development of an online store on Magento fits with the bill of all types of businesses ranging from small ones to larger ones. Thanks to its Community version which a free version suitable for small businesses with restricted budget and it also has set of all essential features require for setting up an attractive online store. If you have sufficient budget to invest, then you can choose for its Enterprise version that is paid and is equipped with all essential features that are needed to create a user friendly and SEO optimized online store. It means you have an option to set up an online store using this platform and it does not matter if you have limited budget or you have a good amount of money to invest in your project.
If you have some other reasons or benefits of using Magento over other ecommerce platforms in your mind, feel free to share your views with us in the comments section given below.