Submitted by

macy

on Sun, 02/22/2015 - 22:48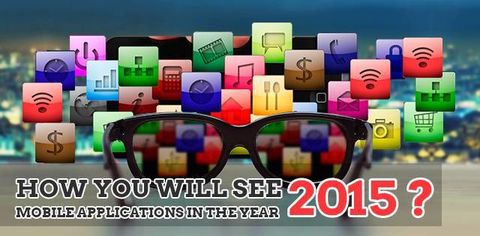 The year 2015 is the year of mobile applications. You will see a drastic change in the behaviour of mobile applications by this year. Well if we go back to the year 2014 and compare the mobile applications with that of now there is already a huge change in that. The use of mobile applications and their needs is increasing day by day. Here we have discussed the predicted changed behaviour of mobile applications in the year 2015. Have a look how these mobile applications are going to change your way of living.
1. Your Websites Will Work Like Mobile Apps
In terms of personalization and interactivity these mobile apps will not only cross the other devices but will also cross the other forms as well like websites. In the year 2014, websites have started working like mobile applications. To replicate this kind of experience that users of your application have started expecting, creators of your websites are also including some important features like responsive design, automatic updating and two-way communication.
2. Remarketing Ads Beyond Apps
This is something that will allow you to run your apps even after your applications are close. In the year 2014, application marketers have seen that users that they have acquired with the help of their mobile ads and the users that they have acquired organically perform equally well.
In the year 2015, they will try to double their returns on spending on their ads even further. Using this remarketing through your mobile ads, they will able to get the things back churned or to the indecisive customers. They will help you in targeting your customers through the ads that are situated outside the application. Users that were very close to the action are generally desired by the marketers but closing the action without taking any action will receive a number of reminders outside the application.
3. App Security and App Privacy Will Become More Significant
The hacking of some useful information and digital platforms took place in the year 2014 and it resulted in the theft of personal and financial information for thousands of people. It is obvious that the security measures that are used in place are not that adequate. But it has been predicted that in the year 2015, app makers will work on their security systems so that people who are more concerned about their privacy will be able to share their photos, contact details and other personal information with the application. The battle against the hackers will always remain in the news but you will be able to use safer applications.
4. 2015 Apps Will Offer You Better UX And The Applications Will Be More Specialized
In the year 2015 the applications will not only serve you as tools with multiple functions but applications will also focus on the specific ones for specific users and so will become more useful with its special features. Your mobile devices will also resemble your toolboxes with some particular tools for all the jobs, rather than containing only a few applications of your choice. There won't be many tools available but you will only get some particular versions of tools.
So the value of positive user experience will increase even more. Successful applications will be intuitive and will have one-touch operation.
5. Apps in 2015 Will Join Both The Offline as well as Online Worlds
Leading hotels and restaurants all over the world have started providing mobile applications that users can order using application and can pay from anywhere they are sitting. Both Google and Amazon make sure that you do not have to travel and do not visit a store as they will bring the forth programs for the same day delivery. At the forefront they have their applications. The best part is that you can use some of the useful applications even in offline mode. So you do not have to worry about your internet services. Who will gain supremacy will be decided by whose mobile applications are more user friendly.
In the year 2015, you should start expecting your life to become more easy and comfortable through apps that will help you in making payments, getting the deliveries of your food stuff or ordering the food. 2015 is going to be a wonderful year for all the mobile freaks.
Author Bio: Macy Jones is working as an iPhone app developer with a leading Mobile App Development Company in Melbourne. She is a wonderful resource for the company and has completed her graduation in computers. She is a genius mind at work always. After her coding and programming she likes to write what she designs. Cath her on Facebook and follow her on Twitter.