Submitted by

Susandaigle23

on Thu, 12/06/2018 - 10:05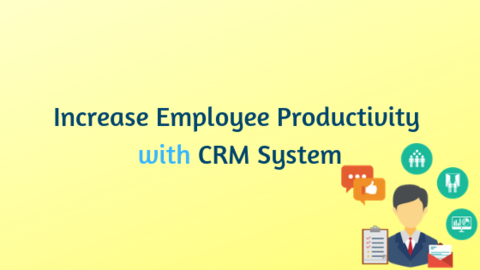 Customer relationship management solutions are helping companies in building long-lasting consumer relationships since more than a decade. These platforms play a crucial role in reducing the operational costs of any given firm by improving employee productivity. No matter if it is managing the copious amounts of consumer data, marketing, sales, or apps, CRM software can help in every aspect of the enterprise.
Single point interface task management system
Internal communication can become more productive and less intricate if the organization uses a single interface for collaborating on projects, delegating tasks, and also to communicate with each other. Advanced cloud-based CRM solutions can offer a single-point interface task management system that can be used for sharing documents, assigning tasks, setting priorities for projects, and for updating the progress in various projects on a real-time basis. Such a single point task management system can make communication between employees (working from different locations) extremely efficient. Your clients will benefit a lot if your employees work together as a cohesive team.
A dashboard that offers an insight into day-to-day operations
Higher management can easily track the productivity and efficiency of employees working in various departments in the form of simple graphics and visuals on the dedicated dashboard. Ability to keep track of daily business operations on a real-time basis can prove to be invaluable. Such insights can assist them in making sound decisions regarding allocation of resources wherever required.
CRM integrated knowledgebase
When consumers call the company to get account information or product-specific details, the executive should be able to offer accurate information quickly. A caller would appreciate if he gets the answer without the call being transferred from one department to the other. Organization's sales, customer service, and retention employees would be able to assist consumers quickly with answers to their queries if they have access to integrated knowledgebase within the consumer relationship platform. Employees, especially, those who interact with consumers, can surely deliver effectively with such a system in place.
The 360-degree customer view
Relationship management system with integrated client profile offers customer information and details about previous emails, phone calls, and other communication on the same user interface. Any employee who accesses the customer profile gets complete information at the fingertips for analysis. No matter if he or she wishes to take a look at the customer's contract copy, promotional options available on the account, or commutations, the organization's employees can access the data on the CRM even from their mobile device. Customer care executives won't need to waste their time in logging calls or in entering data as well, like in the dos based legacy systems.
A reputed CRM development company would also be able to offer custom-made customer relationship management system to suit your organizational needs.
CRM integration with company website(s)
Integrating the company website(s) with CRM is crucial because the latter can get immensely valuable data. No matter how big the brand is, at times, you might find that the company's customer care team remains unaware of the offers displayed on their website. Call center teams working for various firms often face such situations because their sites are not integrated with the relationship management software.
Small and large organizations spend handsomely on developing their websites with high-quality content and forms for prospects. However, due to lack of integration between the two systems, the data and sales lead(s) remain unattended for more than 48 hours. Such delay in getting back to the prospects can directly reduce the conversion rate. Automated real-time integration would ensure that your customer service and sales team gets access to recent purchases and transactions that the consumer made on the portal.
For example, when a prospect fills up the form and asks for a quote, the CRM would automatically pass the query to the sales team within seconds. It reduces the need to engage resources in back-office work and helps in increasing conversion rates by forwarding the leads on a real-time basis. Remember, integration projects are complicated, and you should only select a reputed CRM software development company for the job.
Cloud-based solutions can help reduce the firm's IT spending
There is no need to maintain the database consisting of legacy hardware, software, and technology infrastructure anymore. Besides the improved reliability, cloud-based platforms allow all your employees at various locations to retrieve information from a central resource. Cloud-based CRM solutions can be accessed by executives even using their smartphones. Employees can work remotely and don't need to be kept tied to the desk anymore. Plus, it also helps firms to save the annual spending on maintaining hardware infrastructure.
Merging ERP and CRM systems
Merging ERP (Enterprise resource planning) and consumer relationship management system would prove to be the best and the most critical step to enhance efficiency, optimize operations and remove data silos. In spite of implementing CRM and ERP, some businesses lack agility just because both systems do not work in synchronization. Even today, customer care executives working for big brands need to juggle between multiple screens while answering customer queries just because the company has failed to integrate the two systems.
The ERP system manages purchase, inventory, accounting, and HR activities. Combining it with CRM helps the organizations to manage the human resource, project management, finance, and supply chain in the most systematic way possible. With the integrated system in place, an employee in any department would be able to check the customer interaction, order and payment status, as well as shipment details within minutes. Similarly, order placed in the consumer relation management software would trigger the chain of actions in the ERP for order fulfillment and save the unnecessary time spent on manually entering the information.
Studies have already proved that companies with legacy systems face a higher attrition rate. Adapting the best technology would not just boost office productivity and sales, but can also help in employee retention. No matter if your firm is small or large, crm development companies offer tailor-made solutions for all.