Submitted by

victoria

on Thu, 09/24/2015 - 05:53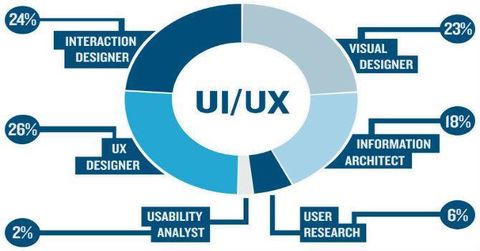 In this mobile age, it has become imperative for any business to embrace a feature-rich and captivating mobile presence. Whether it is about making your website run flawlessly on any mobile device, or creating a relevant mobile application, the UI and UX design of your product is quite crucial to efficiently target mobile viewers. If your mobile solution is not visually pleasing and easily accessible, you will barely be able to get any positive conversions. Thus, to benefit your business with a prolific mobile application, it is vital to consider the latest mobile design trends. However, it is common to see wireframes, site maps, and more grabbing the limelight, while leaving the visual design behind. But, I believe that a rich aesthetic can miraculously boost the user experience of a product. Therefore, it is worth spending time and scrutinizing the UI and UX design aspects.
Although both the UI and UX fall under the designer's umbrella, they possess different design aspects. UI design is about making the interface appealing and interactive, while the UX design is not just about the user interactions, but it also focuses on the overall usability of the product.
In this article, I will share a few noteworthy tips that can help you create a positive impression on your mobile viewers and encourage them to further interact with the product. Here are the design tips for your consideration.
1. Make The UX Adapt To The Users - Personalized UX!
By making your users feel like they are the privileged ones who are getting desired options, which make it easier for them to search. You can deliver personalized experiences to your users by utilizing the preferences of individual users. You can let your application learn the taste or choice of a user by analyzing the trends via the data usage, geolocation, and application settings, to mention a few.
2. Dump Glossiness For Flatness
Simple, uncluttered and clean design is what we generally look for in an interface. This is what the flat design is all about. It doesn't embrace any bulky design feature, like gradients, heavy lighting effects, or drop shadows, that can distract viewers. A simple design can help you place your message in front of your target audience with a flair. Thus, it is advisable to create a flat UI, adorned with a subtle color scheme that can improve the usability of your product.
3. Social Media Integration
Integrating the links to the social media websites like Google+, Facebook, LinkedIn, Twitter, etc., in your mobile application via suitable buttons can help you add to the credibility of your website or application. Moreover, it also facilitates easy marketing, as impressed users can share your app or website with their friends through social media websites that offer a brilliant medium to promote something across the globe with a breeze.
4. Integrate Microinteractions
It is essential to create an intuitive interface with familiar icons and trendy layout. By embedding microinteractions in your mobile solution, you can further smoothen the user experience and offer seamless user interactions. Microinteractions can certainly enhance the usability of a design and help users easily understand and access the product.
5. Endeavor To Maintain Consistency
Consistency embraces a great value in design. A consistent design can help attain users' retention and keep them engaged for longer to drive the conversion rate. For instance, if the search bar is placed at the top right corner of a page, it is natural to expect it on the same position on all the other pages. Thus, if your design is breaking consistency either in UI design or UX design, it can lead to a clumsy experience. And, annoying your users can make them abandon your product.
6. Don't Forget User Privacy
This is yet another way to improve the usability of your mobile solution. Mobile users are often worried about the security model that a product embraces before using it. The apps that seek various permissions, including access to the contacts, camera, GPS, media files and so forth, certainly make it a risky choice. Thus, users hesitate to use such applications. Luckily, you can breakthrough this issue by precisely elucidating the way your application will use the user-specific details, while asking for requisite permissions only. This will eventually help you create trust among your potential users.
7. Take Thumb Gestures Into Account
Analyzing your target audience and their behavior beforehand can help you deliver a heightened user experience. All the vital UI elements, like CTA buttons, must be designed after thoroughly scrutinizing the design trends and user behavior. It has been observed that most of the users prefer accessing their device via a thumb. Thus, placing the UI elements accordingly to support the thumb gestures can enhance the overall usability of your product.
Final Thought
Since, viewers observe the entire website before delving deep into the functionalities and other details, an exquisite design can generate a good impression. Thus, it won't be an understatement to say that usability is interrelated to beauty. I hope the above mentioned mobile UI and UX design tips will help you make your mobile solutions more effective and visually appealing.
Author Signature: Victoria Brinsley is an app developer working with Appsted - mobile app development company. In case, you are willing to dig-out more information about the related services, get in touch with her.