Submitted by

charlie

on Sun, 10/25/2015 - 23:38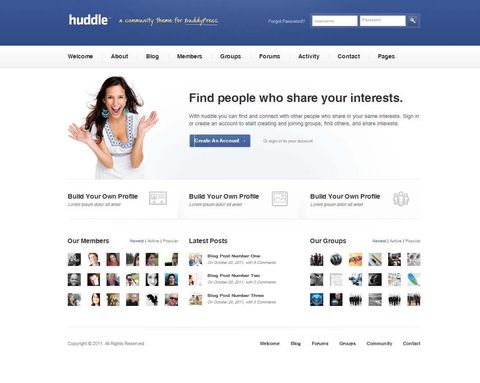 Website development is not exactly a new thing today. People have been doing it since the late nineties and probably even before. The only difference now is that it is easier, faster and more advanced. With content management systems as powerful as Drupal and WordPress, there is no reason why you should have a problem developing your website. You might have a bit of a problem though, in choosing between WordPress and Drupal. Which of these two is the best?
It is easy to say WordPress. This is primarily because it is the most used platform and it is extremely convenient. It is cheaper and has a multitude of options particularly when it comes to themes. The same cannot be said about Drupal. Drupal is not as popular, it does not have as many themes and plug-ins as WordPress. Nonetheless, it is still a highly favoured platform for certain types of websites. Drupal is extremely powerful and even with the few modules it offers, you can have such a fantastic website in place.
High performance websites created fast
Without a doubt, WordPress is the easiest option to consider if you are a beginner. As a matter of fact, there is no better way to have a website created fast and affordable than to go for WordPress. WordPress is a platform that is extremely easy to use. This is primarily because the 'WordPress community' is very large. Whenever you are faced with a challenge, installing WordPress or using a certain theme, you can easily get someone to help you out. There are answers to just about all your questions concerning WordPress.
Creating a site on WordPress is quite fast. It will take a few minutes to get the work completed. With Drupal, you will have to put in a bit more effort to get the website up and running. The cost involved is quite high and the time that you will need for the task will also be a bit long. However, Drupal has a fantastic framework that allows for high performance websites to be created.
Engage your audience
There is no need to say this but WordPress websites are highly favoured by search engines. They are also more responsive on the mobile devices. Social media integration is not uncommon in most WordPress themes. This is all thanks to its popularity all over the world. What kind of website are you planning on creating? WordPress has so many themes that you can use to create that website you want with such impeccable ease.
The best way to get a website off the ground is to promote it intensely. Let people know about the existence of your website. This is where WordPress outranks Drupal immensely. You can access the best BuddyPress WordPress themes and use them to get the attention of the world. BuddyPress is basically a plug-in that allows you to do several things including:
Creating a mini social network for your circle of friends
Develop community portals where people can exchange opinions on topics of interests
Building a networking site for the products and services that you have to offer
These are just some of the many things that you can do with BuddyPress. The themes that it comes with are just so many and installing them into your WordPress website is easy. Some of these themes include:
The X Theme - Since its development, The X has been at the top of the pack. It is compliant with BBpress and BuddyPress. It has been updated over time making it ever better and this is why it ranks among the finest of these themes.
Divi - This one is renowned for being ridiculously flexible. It does not matter whether you are looking to developing a portfolio, business website or a fashion blog; Divi will make that a great success. It comes with 18 predefined layouts and the Divi builder. It also supports BuddyPress.
Opinions - As might have guessed, this platform is perfect for opinions and views that everyone has. It offers a fantastic magazine-like layout for this particular purpose. People can voice their feelings about certain subjects easily, thanks to this theme. Install it on your WordPress website and you will have one of those social networks that everyone wants to be a part of.
Buddy - There are several things that you will love about this theme. It is highly functional, highly engaging and fully supportive of feedback. If you are worried about installation matters, this is the theme for you. It goes on auto-install and makes work for you effortless. There is the technical support available to help you out as well.
DynamiX - The customizability of this theme sells it. It is ideal for e-commerce websites and other business-focused websites. With its delightful 3 to 6 column options for the grids and galleries plus an image rotator, this theme is ideal for owners of e-commerce sites and even auction websites.
Connect - This list would not be complete without connecting a theme that was designed with news in mind. Connect is perfect for you if you want to build a small society or community. You can disseminate news items that are going to be of interest to your community.
Made - It is almost similar to Opinions with its attractive magazine-style layout. Engagement of users ensures the increase in page views in relation to the time spent on the site. There will be a higher return frequency as well.
Conclusion
WordPress and Drupal are both excellent platforms with lots to offer. However, WordPress is made so much better by the fact that is has BuddyPress. BuddyPress is one really amazing plug-in that will transform any kind of website into a fully functional social networking platform. This is very important when it comes to success of websites. People need to engage with each other, information about your site has to be shared and this plug-in makes it possible for that to happen.
On top of that, you can also have your website designed faster plus select from a multitude of themes. The cost of the website designing will not be as high as if you went for Drupal. You can have that site built affordably and conveniently within your time specifications.