Submitted by

kevalpadia

on Tue, 01/05/2016 - 02:48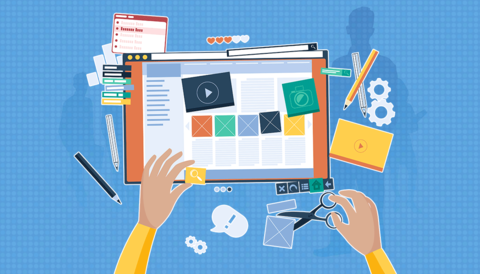 Designing an effective website is tough and several businesses are in loggerheads to create a website that makes money. Instead of viewing their website as their own identity and a marketing venue, they treat sites to be just their online placeholders. This approach never results in more leads. Web design is usually handled by third parties who are never in the know about the brand or the company image. They just start to create a templated design based on the latest design principles.
Here are some web design changes that can make a real difference to your web identity.
1. Make it simpler
Not many developers, designers, and usability experts realize that simple websites work the best. In the onslaught of varied demands, deadlines, and appeals, the truth never comes out. According to a Google study, users judge the websites in just 1/50th of a second. The sites which are actually complex are not termed beautiful by any stretch of imagination. A visually complex website will have many elements that demand cognitive attention and they may be icons, banners, logos, headlines, ads, menus, social plugins, messages, related items, images, forms, and any that any business manager demands from them. Simplicity is the toughest to go about since although it improves everything, not many know how much is enough. Simplicity of a site aids in usability, better aesthetics, and is attractive to the user.
2. Remove extraneous elements from the site
The fastest way to achieve simplicity in a website is to do away with clutter and deliver a fresh look. Is the sidebar or the search box important and are the social icons even relevant? Get rid of all such elements that are not required. If a line of text and a supporting image is required, stick to it. Creating more white space or "negative space" which is itself a form of design. White space brings an uncluttered outlook to seeing things and frees the mind. Hide elements that are not important and you are not sure to remove. Shoving extras below the fold gives you the option to preserve it without hindering the minimalist view.
3. The familiarity principle is important
Exposure to familiar sights lets people to associate themselves with it and they will consider it more beautiful than unfamiliar ones. Familiarity makes people seek for it and they find it collectively beautiful. Meeting a wide expectation is part of website design and one should adhere to it. Mimic the conventional by leveraging the power of simplicity. The goal of a website is first and foremost, to be usable. It is focused on making the homepage usable. Usability and simplicity are correlated while the sites are more effective and simpler too.
4. Better usage of sliders
Sliders present a way to double, triple, quadruple usage of a limited space where content can be switched on and off to promote timely things like sales. They are easy to update too. But visitors have little time and they would not spend it looking at the slider. One or two sliders might make them curious but not the next ones. Sliders push other content down the page and push for scrolling too. Moreover they boost the load time of the website. Sliders are an advantage only when they are customizable and if they include an effective call to action.
5. Experiment with video and call to actions
Integrating well-produced videos can boost conversions. The basic design need not be changed but generating great video content is tough. Also businesses lose customers if the navigation is faulty through their website. Clear call to action buttons and messages that state customer actions will boost revenue with little work involved. Logical CTA buttons need to be placed strategically to support the goals.
6. Include testimonials
Putting up customer testimonials drives conversion rates and gives proof about site claims. One can even use testimonials in form of videos or quotes. Also use some lines which hint at a benefit offered by the company for a client in indirect speech. It is effective indeed! Business sites should be written in a tone relevant to their customers. Once you go through website copy as a customer, it will be evident that the word count is too high and the jargon needs to be toned down. Facilitate skimming of pages rather than reading of content.
7. Upgrade your fonts
The same content looks incredibly different with a font change. Use modern fonts for your website that are legible and artistic in the same vein. Use a Google Web font for more options and these font changes can help the content to stand out in the crowd.
8. Pay heed to analytics
Google Analytics is free and businesses should use it to a great extent especially for their site. Add tracking codes to your site, and use the resultant data analysis to strategise content and pages twice every month. Pay heed to customer dropouts and the lowest-performing pages and try to find a way to retain the readers on the site.
Author Bio - Keval Padia is a Founder and CEO of Nimblechapps, a fast-growing iPhone game development company. The current innovation and updates of the field lures him to express his views and thoughts on certain topics.