Submitted by

davidmeyer

on Wed, 11/18/2015 - 02:27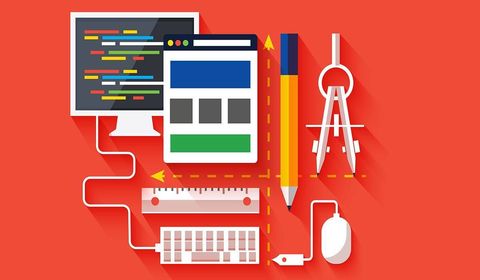 The current website design and development industry is soaring day by day; it has entered into a challenging phase due to the involvement of enormous tools. The powerful tools endowed with improved quality features are greatly useful to design and draw. Having promising nature, these prominent tools turn the toughest task into the less time taking steps that demand minimum efforts from the designers to implement the requirements. The tools enriched with creative features and built with the newest technology have been developed by the experts; this is why, these are easily readable. From the designing aspect, these are lucrative for the designers as they can save time and cost by putting less efforts.
In this realm, the preference of HTML5 tools is higher than the tools developed by other technology due to easy to manage features. With the quality-rich and credible solutions, webmasters can boost their work value and this is all possible with the effective usability of website design. Hence, try to include stunning elements that beautify your site and power up your responsive site with absolutely simple work. Nowadays, the website development industry is a pool of a plethora of HTML5 tools available free to fabricate the business needs effectively.
If anyone of you wants to use HTML tool, but a little confused about what would be the beneficial to your business, then you're absolutely at an ideal place. With this post, you will get the best of breed integrated with well-developed collection of HTML5 tools.
Discussing Comprehensive HTML5 Tools Advantageous for Designers
No doubt that the drawing and sketching both tasks are significant from the designers' point of view. So, how could you take it lightly whereas you know it can either make or break your journey towards the goals. Hence, don't take any sort of risk in this matter and choose the perfect solution assorted with modern attributes and best flavor of technology to produce exciting outcomes in terms of website design.
Containing a number of quick to use features, Velocity Sketch Tool, built with HTML5 technology, runs smoothly and provides visual look over the web. Considered as the best drawing tool, this HTML canvas powered app consists of several quite awesome yet modern attributes efficacious for the web designers to fulfill all complex needs. This unique tool brings creative pages with tremendous but simple to use stuff to implement designing needs.
This creative tool showcases the actual power of having audio in the websites. Through this audio maker tool, you can introduce this feature successfully and it works online. It further caters the option of HTML5 video maker as similar as the audio maker. Thus, you can say that it's an online video cum audio maker HTML5 tool.
This gorgeous app created with purely HTML5 technology offers the most interactive sketching tool for the web designers to meet their website demands. Besides this, it does not demand any additional application to install like flash plugin.
Another beautifully structured tool featured with multi-user sketchpad that allows drawing sketches of your own choices during the same time.
Comes with great technology like HTML5, jQuery and CSS3, Online Sprite Box Tool contains a plenty of key qualities helpful to compress the images in a way webmaster wants to see. With this, you can keep the images in truly "sprite" manner that not only amplifies the image loading speed, but also its transitions by reducing total loading time. It's one of the demanded tools enriched with all-influential elements.
This exciting tool developed by HTML5 is used to draw circles in different sizes. For this, it provides varied parameters and options that you can set to maintain the speed like fast, slow or medium. When you do the configuration, then get a set of parameters such as mobile circle and static circle size. Besides this, user is allowed to set the line thickness and colors.
A valuable tool for incredible design that comprises 20 diverse tools for styling and painting the artboard.
An amazing sketching tool used to draw rectangular shapes & circles. Even, you can use it for freehand drawing to render a unique appearance to your design. Furthermore, it consists of copy, paste, redo, and undo functions for simple sketching.
Through this tool, you can easily view all precise details of the page elements imperative for the web page, and this task will require just a few clicks. Integrated with smoothly accessed features, this online tool drags the Bookmarklet to your professional site under the bookmarks. This new concept introduced outstandingly provides all necessary information related to design vital to handle HTML5 elements in simple clicks.
Powered by JavaScript and HTML languages, this drawing app brings wonderful painting options for easily fulfilling the drawing & designing needs.
This tool coupled with gorgeous page designs and background enhances the look of website with pattern in just a few seconds. Built with HTML canvas, Pattern Generator is embellished with a heap of custom options and allows you to run it easily for sketching.
Conclusion
HTML5 is undoubtedly the best and easy to use markup language beneficial for designers to develop exciting solutions. Based on elastic approach, most HTML tools provide flexibility to make changes in the coding so that the webmaster can draw substantial piece exact to his/her specifications. Pick the one suitable solution from the list and start managing your website and its code proficiently.
Author Bio: David Meyer, associated as an expert Sketch to HTML developer with CSSChopper, has proficiency in HTML and JavaScript technology and he loves sharing post based on these topics to improve the knowledge level of the readers.