Submitted by

kristin

on Fri, 01/16/2015 - 02:43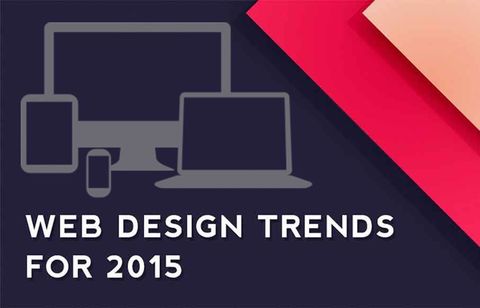 With the onset of 2015, every web designer is excited about the new web design trends that will be ruling excessively this year, and they can utilize them creatively for bringing up more number of unique websites for their companies. The evolvement of web design is happening at a quicker pace, and in 2015 it has approached with distinct vibrant trends. Web designing is nevertheless a great advantage in the brilliant presentation of products, offering the best services, using new technologies and uniting people among themselves. These trends will also help the designers to polish and progress their designing proficiencies.
Listed below are few of the amazing web design trends of 2015 that will be used by the web designers for establishing their websites or renewing them in a brand way.
1. Increase of Flat and Material Design
Web designers will continue to work on the popular flat design this year because of its simple and sparkling style which permits for an optimized presentation on the smartphones. It is gradually developing into material design. The designers should understand the various core features of material design firstly so that they can apply the latest Google material designs in any structure they would like.
2. Ghost Buttons
Ghost buttons are the major design feature of 2015 as they match up magnificently with big size background images as well as videos. It will be a pleasure for the designs to utilize ghost buttons as they are the smallest and fashionable ones along with delicate floating animations.
3. Responsive Designs with Superior Performance
This whole year responsive design is going to rock extensively. Responsive design has set its base strong as the innovative standard for web designing as well as WordPress. Undoubtedly it cannot be missed in your web designing process. Highlight will also be on performance level of the websites.
4. Full Focus of Typography
Perfect typography is highly important for the websites. Typographic designs need bigger budgets, but type kits are easily available at reasonable price for the designers. Thus the WordPress theme designers can be more typographic flexible in their distinct themes, formulating elegant type-framed designs.
5. Magnificent Background Images
The designers will carry on with beautiful background images in 2015 that will distinguish their website with unique content from their competitors. The bigger and the better image design will make the website look more graceful.
6. Full-screen Videos
Audiences nowadays are more interested to watch videos, instead of reading the contents. Full-screen videos are really attractive as they portray the whole story of a company in just few seconds and craft sensation along with eye-catchy motion graphics.
7. Mobile Applications and Social Sites will lead
Users are more into using mobile devices than the websites, utilizing different modish applications involving browsing social networking sites and playing games. The web designers can share best content information on Google+, Twitter and Facebook.
8. Entry of Interactive Infographics
Interactive infographics have approached this year that lets the users to make an interaction about particular information, thus establishing more of appealing experience, and also learn from them. It is really effectual and visually alluring and also a story-telling mediator.
9. More of Scrolling
With mobile web pages becoming valuable and quick to use, extensive scrolling will persist this year thus leading to click. The users can easily scroll down that lowers the loading time, and they can have more active interaction on the website.
10. Exceptional Navigational Menus
The web designers are approaching with more inspiring solutions towards website navigation. The users can experience awesome browsing with pop-ups, floating as well as sticky menus, slide up, slide down, flavored with secondary information, imageries, lively animations, etc.
11. Cards and Tiles
The cards and tile designs will be expanding hugely throughout this year! The designers will be applying these design techniques in ecommerce websites and blogs. Pinterest is definitely the ruler in this design style.
12. Micro-interactions
Micro-interactions will also be a stylish trend for this year. These small interactions cover tasks such as liking a post or any article, modifying a setting, rating any kind of song, or posting an interesting status. Micro-interactions can keep the users fully engaged, and even offer better feedback, efficacy and outstanding usability.
Hope the above 2015 web design trends will help you tremendously in making your best websites!



About the Author :
Kristin is a content developer love to write content on web technology and latest happenings. She work for EduGeeksClub.com as a content marketing consultant. One can check her write-ups on edugeeksclub blog.