Submitted by

amelie

on Sat, 11/21/2015 - 00:21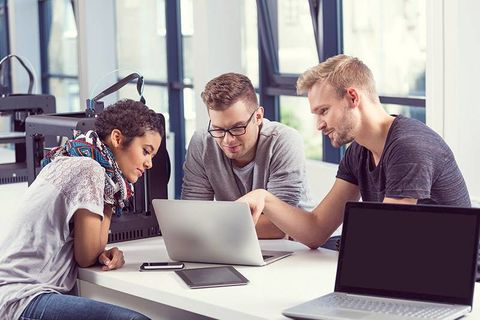 But the surprising element is that every fresh grad is not smart enough to land on a right internship opportunity to get some work experience. Therefore in this article we would discuss practices that any student could learn to grow their career proactively. Here are 7 proven practices that you must ensure to speedily land on the best internship opportunity.
1. Know Your Goals
In order to grow ones career in the right direction, it's crucial to figure ones targets as early as possible. Spend some time and identify each and every goal that can bring you closer to your success. This way you will not only figure out vital goals that will make your career prosperous but also sort out distraction that could waste your time and negatively affect your growth. Thus know your goal as early as possible to lead your career in the path without any hassle.
2. Develop a Convincing Application
The first thing that you will need to apply for internship opportunity is a proper application. Consume sometime and pen down a captivating application that will allow you to convince your application reviewer. The more perfectly you will build an application the more easily you will grab the attention of the reader. Therefore make sure to create a convincing application to hook the attention of reviewers easily and quickly so that s/he could instantly approve your application.
3. Attend Job Seminars
If you want to speedily land on the right internship opportunity, then you must attend job seminars as often as you can. This is because job seminars provide the best opportunity to meet with professional people that belong to a similar field. Ensure to attend every job seminar that is arranged in your area to get internship calls from reputable organization of your field. Otherwise you will miss great chance to enroll in a right internship opportunity that can grow your career graph.
4. Use Online Socializing Forum
One of the best techniques to enroll in a right internship opportunity is to use the power of the social network. Nowadays globally recognized organizations are using socializing platforms to recruit new applicants in their workplace. You too can benefit from this great opportunity to steer your career in the right direction by using online socializing forums. Make sure to sign up for LinkedIn as it is the leading socializing forum to drive endless opportunities in the professional world.
5. Register to Popular Job Boards
In today's tech savvy world fresh grads are surrounded with numerous job boards that they can use to be a part of the working world. Good news is that along with recruitment opportunity job boards also facilitates fresh grads with training opportunities so that they could easily grow their career proactively. Keep in mind to create a powerful profile over popular job boards to double your chances of selection in the training program.
6. Be a Team Player
Once you land on the right company as a trainee then you must act like a team player to avail full-time working opportunity in that organization. It could be easily done by involving in every activity that is occurring in your workplace. Ensure to come up with ideas that can help your teammates to accomplish workplace goals in the best way possible. By doing this you will easily reflect your expertise in front of your managers as well as boss to get a full time job offer.
7. Grow Your Knowledge
The most effective ways to avail full time job opportunity is to grow ones knowledge. It is a fact that internees who have crystal clear knowledge about operations of their workplace easily get job offers from popular employers of their industry. You too can also make the most of your internship program with a full time job opportunity by growing your knowledge regarding your job.
8. Add Professional Contacts
Undeniably our professional contacts play a lead role to climb the ladder of success in the working world. The more professional contacts you will add in your network the better opportunities you will get to make your career brighter. If you want to drive dozens of opportunities that can help you to secure your career, then you must add professional contacts to your network. Professional contact would not only help you in the recruitment process but also help you to make your career flourishing.
In the end, it could be stated now that the above information is best for students who want to kick off as well as secure their career with a suitable professional workplace training opportunity. Be generous and share this stuff with your network as well to make their career prosperous in a hassle free manner.
About Writer: Amelie John is the author of this blog who loves to write content for popular advice blogs. In the present days she is working for Mighty Essays to help out student with effective advice blogs for their career growth.