Submitted by

shahid

on Tue, 02/24/2015 - 02:45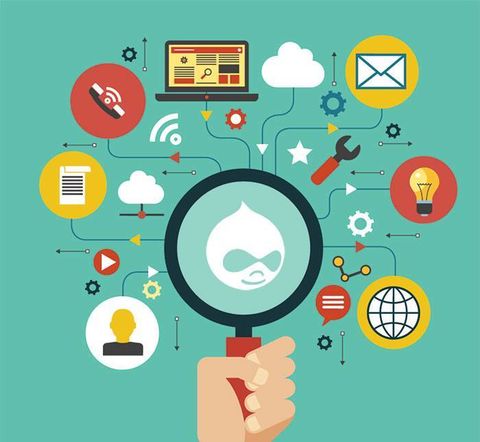 What is a similarity between the websites of The Economist, Mint, New York Government and Arizona University ? Well, all these websites are made of Drupal open source software, particularly created for a content management system (CMS) framework. PHP is an open source script code, which is free of any licensing costs and a choice of developers from many years. Drupal is written in PHP code, and, therefore, it saves money when it comes to developing a website using it.
Drupal Web Development - Plenty of Opportunities
From community web portals to personal websites, from eCommerce sites to social networking sites, from newsletters to resource directories - Drupal web development enables organizations to address all the requirements for stronger online presence.
With more than twenty-nine thousand modules and two thousand different themes, hundreds of thousands of developers use Drupal for developing a custom website for their clients.
With thousands of add-on modules and designs, Drupal is a preferred choice of developers and designers. It accounts for a back-end framework of more than 2 percent of all the websites worldwide. Web designers can make thousands of custom templates through Drupal CMS.
Brief Comparison between WordPress and Joomla
WordPress CMS is a better pick for the beginners, and it works well for small to mid-sized websites and blogs. Joomla CMS is good for eCommerce websites but requires some technical knowledge in terms of coding. Drupal is the hardest, but the most powerful CMS among all. It fits for all types of websites and the easiest CMS for moderation.
In brief, we can say that Drupal web development is more popular than both WordPress web development and Joomla web development.
Just like Magento, Zen Cart, X-Cart, and Joomla; Drupal is also a considerable platform for designing customized eCommerce websites. The major reason behind it is that an addition or modification of custom Drupal templates takes no time in tailor-made eCommerce websites and apps.
In addition, developers and designers can readily customize and develop different types of Drupal extensions for meeting clients' requirements.
Benefits of Drupal Web Development:
It is open source software: In Drupal, core software, contributed modules, and a large number of themes are free, which help businesspersons reduce web development cost significantly.
It is customizable: In terms of features, operation, layout, and design, Drupal is highly customizable, which provides loads of choice to developers and designers for addressing clients' requirements.
It facilitates rapid deployment: Drupal enables companies to deploy core features and functionality rapidly. As a true 'Web 2.0' style, developers can make customizations after deployment of a Drupal site. Companies can go for customizations as per feedback and business requirements after making their sites live on the web.
It is enterprise-class software: In terms of scalability, flexibility, reliability, manageability, security, interoperability, and availability of resources; Drupal is an enterprise-class CMS. Developers can readily integrate it with other applications like SAP, phpBB, etc.
It has an extensive API support: Facebook, Twitter, Google Apps, Google Analytics, YouTube, etc. provide an extensive API support for Drupal. Developers can create own custom modules by using such well-documented API.
It is SEO-friendly: As SEO plays a vital role in any company's online marketing strategies, Drupal enables companies to come forward with SEO-friendly websites. It has enormous flexibility to display content in a way that search engines like.
It is mobile-ready: Increasing spread of smart devices opens the doors for new marketing platform for the companies. Smart devices' users can also view the Drupal website the same as that of the desktop users. Small businesses can rely on this feature in order to generate more leads.
In a nutshell, Drupal web development enables developers to make a feature-rich, high-quality website that fulfills all the requirements of their clients. On the other hand, companies can get the dynamic and innovative websites to entice users.
Author Info - Shahid Abbasi is a writer and content strategist who specialized in helping online tech startups. He's admin of technology and web design blog EthicalWeb. You can find Shahid on Google+, Twitter and LinkedIn.