Submitted by

charlie

on Tue, 07/28/2015 - 01:56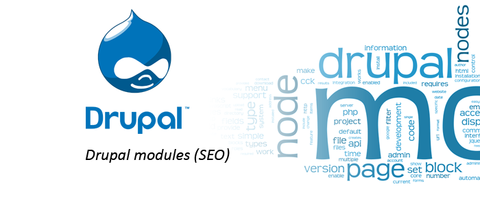 Over the last few years, various SEO modules and external SEO tools have come up to improve SEO for websites using Drupal as their CMS. There are new SEO modules that could significantly improve the traffic and website health of your Drupal site. These tools are useful for both new and long-established sites. If you aren't already improving your Drupal SEO, here are some modules to help you get started. There are also external tools you can use, but that's a discussion for another day.
1. Search 404 module
Search 404 is a module used to show users redirected to 404 pages search results pages instead of the standard 404 page. For instance, if your visitor clicks on a link that leads to a page on your site that does not exist, say Domain-Name/yourcategory/yourpage/notfound, the search 404 module automatically performs a search for 'yourcategory yourpage notfound' and display those results instead of the standard 404 page.
Because of this module, you retain visitors to your site, if directed from old URLs linked to in other sites or search engines. The module also includes search engine keyword detection as well as the option of normal expression-based language filtering from a given URL.
Search 404 helps to reduce bounce rate traffic likely to result after visitors see the standard 404 page. You'll preserve visitors that would be otherwise lost to other sites following a 404 page.
2. Redirect Module
This module serves the same purpose as Search 404 in that it helps to retain traffic led to pages that no longer exist on your site. The redirect module can also help you to check pages or images that result in 404 errors for visitors e.g. images that have been deleted, content with malformed URLs, external linked pages etc.
The redirect module should be used on a Drupal site to check for 301s regularly, such as weekly, and then redirect broken links and 404 pages to relevant pages in your site. This helps both your search engines and visitors still gain full use of your site for a relevant query.
The redirect module mainly helps preserve for links pointing to pages that don't exist - reclaiming broken links to other pages on your sites helps keep the link juice for those pages. However, ensure that searchers are redirected to the best possible page, creating content related to it if not existing within your current pages.
3. Content Optimizer module
This module can be described as an easy and quick editor/admin for simple SEO aspects within your Drupal site, which could have been overlooked in the process of design or content generation. It can be used to give feedback for on-page SEO elements that haven't been taken care of e.g. page titles, Meta information among others.
Content optimizer is conversant with the basics of keyword optimization, optimal page title lengths, inclusion of primary keywords within content on a page among other on-page SEO aspects.
4. SEO Checklist module
Just like the name suggests, the SEO Checklist module gives a simple method to carry out SEO for your Drupal site. By going from simple SEO techniques to the more advanced options, it provides information relating to options and configurations that will improve your site's SEO and growth marketing strategy, including other Drupal modules, which you can add to improve the site.
Guided suggestions given by SEO Checklist will help you improve titles, visitor tracking, URL paths and content among other SEO aspects. It presents a comprehensive yet concise tool that can improve both on-page and off-page SEO for your site.
5. XML Sitemap module
Suppose you have built your new website on Drupal or migrated an old site to Drupal. You have 5,000-10,000 pages all discovered using standard navigation like category menus or breadcrumbs in the Drupal website. This is good enough, right?
It is, but even better, you need to have a standalone XML Sitemap that is automatically updated. This can help your Drupal site rankings and pages in two ways. First, it improves the time taken to find your Drupal web pages and it gives a unique, standard location from where search engines bots can crawl content on your site.
The XML Sitemap module creates a Sitemaps.org protocol that search engines understand and trust for site crawls. The same sitemap will also give search engines metadata regarding all URLs within your site. Your site will therefore be found, crawled, indexed and ranked better and faster.
6. Broken Links Checker module
Broken links are among the gravest SEO issues for any site. That's why there are tons of resources on identifying and correcting broken links. The Broken Links Checker module can help you correct broken links internally and externally and regain lost equity as a result. Feature include scanning pages, comments, nodes and blocks from which is detects and compiles an internal or external broken links list for you to review.
This helps to clean up any issues resulting from broken link relationships and makes the site more crawlable and easier/faster to index.