Submitted by

linda

on Fri, 04/10/2015 - 04:09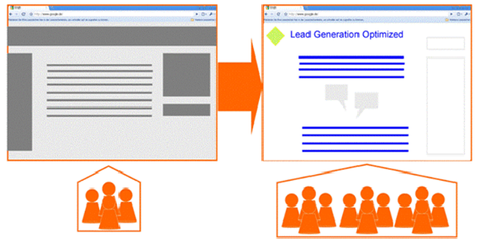 It doesn't matter if your website is getting significant traffic from different sources across the internet, what matters the most is that whether the driven traffic is able to generate leads and sales to your website or not. In theoretical application, maintaining the website traffic is not alone necessary for ensuring success of an online business, but it is equally important to motivate the visitors to purchase or subscribe to your products and services. There comes the need for increasing landing pages conversions.
With the rise of online marketing, it is essential to focus on each and every section of digital marketing to attain ensured success in this tough and competitive marketplace. Hence, the landing pages of your website should be capable enough to convert the traffic into potential leads and sales and a successful and effective landing page features an impressive design with proper call-to-action to convert traffic into leads. For ensuring an effectual landing page, there are certain tips that all digital marketers should follow for improving the conversions of their landing pages.
1. Design Landing Pages with Clear and Defined Objective
Basically, the landing page of a website is the page where the visitors lands through an external source or medium. However, in the world of digital marketing, such a simple definition cannot explain the original purpose of focusing on landing pages for conversions because a landing page is much more than a page getting maximum traffic. It is a page, which needs to be created and optimized with clear and defined objectives of the overall website for engaging and motivating the visitors to convert into potential customers.
The given figure shows how a clear and optimized landing page increases the number of potential visitors on your website:


Certainly, the landing page optimization and design revolves around a defined goal that should be expressive and understandable enough for converting the visitors into paid customers, trial customer, or a subscriber. The landing page of your website must have the clear purpose of redirecting visitors towards specific actions that can only be achieved through adequate designing and textual elements.
2. Perform Split Test Consistently
Split testing is considered as a successful way of guaranteeing your landing page is efficient enough to improve conversions of your website. So, you can say that if you are not performing split test, neither monitoring the data provided by this test on regular basis, then you are at the risk of losing a great amount of profit earned through your online business.
Split testing can be performed by running various landing page options on your website to check which one of them is capable enough to improve the conversions of the page significantly. Suppose, if you are performing A/B testing, it means you have to create two different versions of your landing page with varied headlines to serve them to different users arbitrarily. Whichever headline results in maximum conversions could be implemented for making improvements in your site's conversions.
The given example explains the A/B split testing performed on the landing page of a website:

3. Use of Prominent Call-to-Actions
Use of outstanding call-to-actions (CTA) is important for enhancing the conversions of the landing page of your website. Apart from putting effort in the design and look of the landing page, it is essential to put efforts in creating and using unique and attention grabbing call-to-actions so that your visitors shouldn't have to look around much for finding it. Your CTA should be outstanding to grab the interest of visitors immediately as soon as they visit the landing page of your website. You can also use impressive designs and colors for creating unique call-to-action buttons for your website.
Here are some examples of striking call-to-action buttons for landing pages:


The basic rules for designing a clean and clear call-to-action button for your landing page are:
Create the CTA simple : Make sure to design a simple and clear call-to-action instead of introducing some complex designs that becomes difficult for the users to contemplate. Use of lesser words without including unnecessary steps will help in making the CTA buttons understandable enough to catch the awareness of visitors.
Create the CTA Noticeable : Don't let your users put more effort in finding your CTA buttons but place them in the center of your landing page to make them noticeable.
Create the CTA Worthy : It is important to offer something that worth for your visitors like ebook, free information, tips, or whitepapers in the form of CTA buttons to motivate the visitors in completing purchase from your website.
4. Use Testimonials for Adding Relevancy
Landing pages are not only meant for driving traffic to your website, but they also presents you an opportunity to create your trust within your customers and this can done by placing positive feedbacks and recommendations from your previous customers. You can also put the relevant third-party statements on your web pages that are adequately detailed for integrating credibility to your website. Ensure that the testimonials placed on your landing pages should reinforce the call-to-action buttons on your website and also offer enough information for developing trust and adding reassurance.
Shopify, one of the most popular ecommerce platforms to be used by thousands of customers worldwide for building their online stores has very effective landing page of its website with loads of testimonials from their reputed clients that helps the new visitors know how this platform has influenced their online store and their business.
Similarly, if you can put testimonials or recommendations of your past customers on your landing pages, they will definitely lay positive impact on the purchasing decisions of your potential customers thus improving the chances of better conversions.
5. Create Urgency to Encourage Visitors
Creating urgency or a sense of scarcity is always effective in improving the landing page conversions of a website. Always try to implement this technique in your landing pages to ensure that maximum number of traffic can convert into potential leads and sales. Most of the reputed online stores use this technique by providing "Limited Period Offer" on their landing pages to generate interest among the users to purchase from their site. This compels the users to act quickly for getting the benefit at the earliest. Creating urgency is not only implementing on your landing page alone, but these are certain significant factors that have to be implemented across the website for better results.
The given below figure shows how an online store has implementing this strategy for increasing the sales of its GREY DONEGAL BLAZER:


You can see that it displays "FREE DELIVERY" along with "Hurry only 2 left in stock" that creates sense of urgency among the users to act promptly to get this product at their doorstep. Similarly, if you know how to use this technique in the best way in your landing page, you can definitely be able to improve the overall conversions on your website.
Final Words
With the increasing demand of having perfectionism in the website design, it has become evident that having a successful landing page of your website is essential for implementing the overall digital marketing strategy successfully. However, if the landing page of your website still lacks the tips for improving the conversion rate, you can get the landing page designing services offered by our experienced team of designers that are expert enough to create effective landing pages for the clients with excellence.