Submitted by

katies

on Wed, 02/25/2015 - 01:24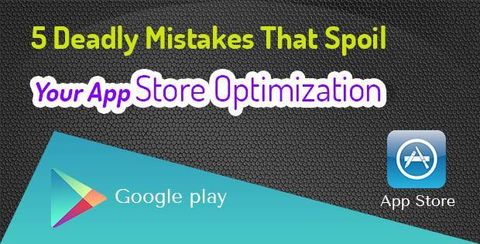 The biggest challenge that application owners are facing these days is making an application easy to be discovered in this highly saturated market. App Store optimization is a very crucial step in the process of marketing. This App Store Optimization is a process where your mobile applications will be shown higher in the app search results. Like in the case of search engines, higher the rankings, higher are the visibility of your application to your potential users. The only aim of ASO is to find and grab more app users and then convincing them to download your application. When you try to navigate your ASO processes and you see improvements in your app visibility then many companies make mistakes and harm their services rather than making any good to their company. Here in this post we have discussed 5 major and very common mistakes that can spoil your App Store Optimization.
1. Changing The Titles Again And Again
Once you have decided the title for your application, do not keep it changing. Fix it once and for all. Your title is one of the most important aspects that are necessary for app store optimization. All this might make your ASO a bit detrimental. With this people will start downloading your application and will leave their precious reviews. By reading these reviews more and more people will get convinced to download your application. This will make your application rise high in the search engine and your app will be a famous app. But if you keep on changing the title of your application it will become very difficult to spread the word about your application. It is better to take time while choosing a name but then stick to it completely.
2. Overstuffing Titles And Descriptions With Keywords
Keywords are essential but over stuffing your keywords can put a highly negative impact on your readers as well as on Google. By stuffing keywords your application won't move up instead it will fall down and Google will suspend it from the search engine because of over stuffing and repetitive keywords. It would be better if you use keywords that are available throughout your title and descriptions.
3. Keep Your Main Focus On High Value Keywords
It is not an easy job to carry out a perfect ASO and if you keep your process working on some very useful and most-searched keywords, every company will rank well. Just because a keyword is having a high search volume does not mean that your App Search Optimization rankings will improve if you start using that keyword.
It is always advised to compile a list of relevant keywords when you start searching for keywords. If you filter your list with the help of a search volume and you only choose the highest ones, you are most probably undermining all your efforts because you are now focussing only on keywords. If you want your application to move up into the search engine and improved rankings then it is important that your keywords should be relevant, even if they are not the keywords that are not available at the top of the search volume list.
4. Do Not Underestimate The Power Of A Google+ Plugin
Many of the firms do not give much importance to one of the crucial steps in the App Search Optimization is not placing a Google+ plugin. But mind it and do not underestimate the power of adding this plugin, because more the feedbacks that your Google+ feedback will receive, the better will be its visibility in Google Play. Also your App Search Optimization rankings will improve organically because more number of positive feedbacks will prove that your application is counted as a good one.
5. Do Not Neglect The Quality Of Your Screenshots
By the end you must have realized the value of a good description. The latest high-end smartphones having high reliable networks allow users to check for the overloading information anywhere or anytime. When users browse the app store there will be a compelling description that can very quickly convince them to pass over the competitor apps and they will immediately download your app. You might be shocked to see that the quality of your screenshots if not very important then it is important in case of descriptions.
If you want to improve with your ASO rankings do not forget to add high quality screenshots of your application. Give your potential users a demo about how your application works, what are the features and how good the app is. Excellent screenshots and well written description together will work as a winning combo that will influence people to download your app.
So these are the 5 common mistakes that App developers and App Search Optimization executives do and all this becomes the reason for the failure of your application.
Author Bio: - Katie Stanfield is working with one of the leading app Development Company India, Xperts Infosoft. She is also responsible for managing the promotional blog for the company. She enjoys her work and is always ready with something new with her mobile apps. Her designs are amazing and wonderful. She is comfortable with any of the mobile platform but her favourite is iOS. She is mainly responsible for handling the client site and helps them in transforming their business into brands using her creative skills. Catch her on Facebook and follow her on Twitter to know more about her secrets.