Submitted by

ashleysanford

on Thu, 06/25/2015 - 00:19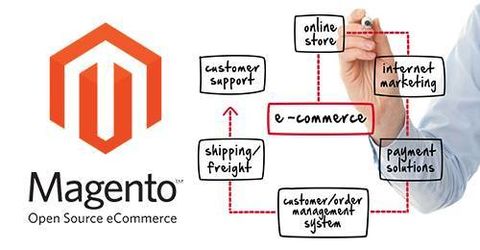 Before deciding on the "best" e-commerce platform, it is important make sure you are well-informed about all options available to you. Most business owners would pick one that is simple and easy to use and has all the tools necessary to run the business. However, what fits well with one business might not always be the best option for another. So far, Magento has become the most popular e-commerce platform in the world. This is without a doubt a spectacular platform that is free, scalable, customizable, and very powerful if you want to create a search-engine-friendly website. For small retailers, however, Magento is not the best and most workable option due to its size. The default size contains too many files which demands self-hosting on Magento-compliant hosts. Those steps can be both expensive and cumbersome for small business retailers.
Here are five best options if Magento isn't the e-commerce platform you are looking for.
For small business retailers, Shopify is the most reliable and suitable option. It saves you from worrying about all the technical details (setting up a host, monitoring performance, installing software) of the platform and leaves you to run your business trouble-free. Customer queries are handled 24x7 by Shopify's support center. The platform wins a number of business owners because of its simple, clean, and minimal interface--something novices can easily handle.
This is another self-hosted e-commerce platform, saving you a lot of hosting and performance-ensuring dollars along with frustrating technical details. Volusion has been around for a long time and has a large customer base. One of the benefits of using Volusion is the customization options. Pre-built Volusion designs are stunning and also up-to-date (minimalism, responsiveness, etc). Apart from being search-engine friendly, Volusion designs are very responsive and mobile-friendly. As per the latest needs and demands of the customers, an e-commerce platform should have smooth running mobile access for purchases on-the-go.
If you are running a WordPress hosted website, a simple and easy solution to your e-commerce endeavors is using the free WordPress plugin WooCommerce. WooCommerce will allow basic reporting, coupons, inventory management, and card-processing options. Many of the themes available on WordPress with shopping cart functionality are free. There is a range of styles, designs, and modules to choose from.
PrestaShop is another open-sources e-commerce platform similar to Magento. This one does require technical know-how. The good news is that, that "know-how" can be acquired by a helpful forum for users on a free plan. The paid plans, on the other hand, provide technical support, modules, and themes. If you have coding ability, you could try this one out.
You will find plenty of small retailers using the BigCommerce platform. The reason why it is preferred by entrepreneurs and small retailers is because it is easy to use, requires no coding ability, and is affordable. Although it isn't free, it does have affordable package plans. You can pay anywhere between $30 dollars to $200 dollar per month depending on your range and size of business. BigCommmerce is highly search-engine-friendly because of the SEO optimized URLs it creates, automatic XML sitemap generation, and site hierarchy. The latest BigCommerce design was updated to support mobile-friendly e-commerce. The front-end focus will surely aid your business. Even if you're a professional coder, or one with even a little bit of experience, you can get started on BigCommerce right away without having to worry about the technicalities. This website is built for any user who wishes to launch and sell on an e-commerce store.
Another hosted ecommerce solution that offers everything you need to build your online store. With support for 160 payment processors, and including 80 great mobile-ready themes, 3dcart provides the best ecommerce platform for SEO, helping you increase conversion rates and enable the success of your store - all in one package.
About the Author: - Ashley Sanford is one of those expert dissertation writers - Peakdissertation who have contributed a lot to many online portals where students ask seek assistance with their hectic papers. When not working, she is passionate about writing blogs on website design and technology related topics.