Submitted by

emilywhite

on Tue, 04/07/2015 - 04:11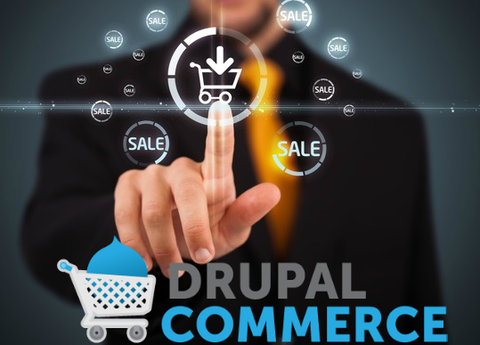 Webmasters all across the world continue their search to find top-notch platform for hosting their websites. In general, if we discuss about e-commerce websites, then webmasters do have a broad range of needs and always look for a cutting edge solution. Their interests are towards those platforms that are robust & fully customizable and hold a wide scope to enlarge functionality and features. However, a plenty of free to use content management systems are present over the web that are used to develop e-commerce sites, but it is onerous to decide perfect one. In this vast list, Drupal is one of best open source platforms, which satisfies all such needs aesthetically and produces utmost outcomes. Here, we are going to discuss 10 important reasons for why to opt Drupal especially for eCommerce website development:
Flexible Payment Modes
Go along with the current market need, which demands great flexibility to make the site adjust with ever-evolving requirements. No one has interest in rigid structure websites as these lack in ability of addressing needs of the market aptly. Thanks to the CMS industry, which provides us a powerful and highly robust platform, named Drupal to achieve all those needs exactly that we desire from a professional e-commerce site. This platform gives full freedom to choose payment modes and allows you to build multiple payments' gateways as per requirement.
Option To Set Versatile Price Slabs
E-commerce websites have a beauty to attract maximum customers worldwide and Drupal is fantastic in this domain, because it simplifies the entire process of enticing customers. Furthermore, it facilities you to set sundry price slabs for all overseas customers in account of location, item weight, type of packing, and more.
Product Highlighting
It is a trend of these days to highlight popular and the most selling products over the online store and using Drupal, you can do it easily. In this way, you can grab better insight of customers for your in-demand products online. This is an ingenious approach to uplift the market of services and present them magnificently with the greatest level of easiness.
Protected Page Module With Secured Checkout & Login
Secure page is an eCommerce module, which offers opportunity and ensure different simple ways for utilizing a few primary example matching. If SSL certification is installed on your site, then search an organization structure of module in order to design fully secured web pages. Depending on module that you utilize to enhance functionality of your e-business site.
Easy To Control SEO, CRO & Website Analytics
Drupal provides only single system to work, where it is quite easy to control the website analytics, SEO and conversion rate optimization (CRO), which is onerous with two system. Besides this, customer journey optimization is also simpler as it has one journey despite of two with bridge.
Role Management & Great Community Feature
The granular role & use management feature of this CMS offers access to use functionality for an online store. Use of this option in order to control features is available for the customers as well. For business owners, it consists a myriad of lucrative community features, through which, you can bring maximum customers in your loop and engage them deeply without any sort of hassle. Theses amazing features undoubtedly can aid you to drive maximum customer value and repeat sales for lifetime.
Integrate External Systems
You can take the advantage of extending or complementing functionality and integrate this platform with external systems through RESTful API, if required for your online store. This unique functionality is not only available in Drupal, but also Drupal Commerce with 3rd party system. Feeds module feature enables online owners to import content from other systems without any obstacle.
Order Management Tools
Order management tools, vital parts of Drupal commerce and its administration toolset allow you to manage, update and view all orders on the site. Sending update notifications with the help of site is also possible.
No Existence of Premium Plugins/Modules
There is no concept of premium exist in Drupal community unlike other e-commerce platforms such as WordPress & Magento that provides premium plugins. Drupal Commerce is an open source and free to use software, which does not have any module or plugin, for which, you have to pay to Drupal community. But, it does not mean that module available in this platform are not appropriate, because the thing is just opposite.
WYSIWYG Editorial Manager
Numerous reasons compel you to include WYSIWYG functionality into your site, powered by Drupal. Impair this editorial manager astutely on setting structure and make sure that it represents all your online store's payment settings & contacts. One thing that you need to do is, change settings of editorial manager, because no single procedure fits all sizes module.
Conclusion:
All mentioned points undoubtedly justify or showcase that Drupal is a cutting edge platform than other dozens of e-commerce website development platforms for developing e-store sites. We hope that all these 10 reasons will convince you enough to look for Drupal in order to reap seamless benefits. But, this is all possible with the best utilization of ultimate functionality, plugins, module and other stunning features.
About Author :
Emily White likes to write technical blogs along with her web development profession. Being an adept web developer, she is working for CSSChopper : Web Design Company and meeting global clients' unique project specifications.