Submitted by

Rachelle Scott

on Wed, 02/10/2016 - 00:00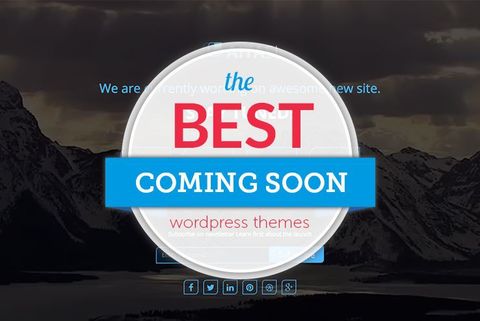 Using a 'Coming Soon' theme is one of the popular ways startups launch their business. For businesses looking for a versatile 'coming soon' landing page, WP offers range of themes and plug-ins that not only makes your website look appealing but also enhances its functionality. For businesses, these WP resources provide a good starting point for a 'newly-launched' business as they can leverage from the buzz and attract leads. These 'coming soon' WP themes and plug-ins are equipped with tools to enhance experience of your leads while your website is still in under construction phase.
From contact forms, email subscription form, social sharing buttons to calendar and countdown timer, these resources provide you with everything needed to promote your brand and create hype of your upcoming business. Without making you feel any more excited, we reveal here 10 themes and plug-ins you can use for your next online project:
Want to generate leads for your startup with an incredible pre-launch landing page? Then download this amazing template. Eos comes with variety of features to stream line branding of your upcoming business. For your website, it offers appealing layouts, fantastic icons, attractive fonts, contact form and email subscription button etc. Its Lead-Gen form can provide you email list of your leads so that you can increase outreach to your audience.
A creation of Theme Kingdom, Lexiity offers you a complete package of what you need for a 'coming soon' landing page. Apart from being completely responsive, it provides you with range of features to optimize your newly-launched website. Your landing page will feature account down timer along with a newsletter button to create email list of your leads. Lexiity comes with range of colors to suit your particular theme. It is integrated with Mail Chimp to give you access to thousands of your potential customers.
Make a powerful launch of your upcoming business with this amazing WP template. With a moving rocket, it makes your audience anticipate a powerful launch. You can even integrate this theme to your Twitter or Facebook account to let your audience get nitty-gritty details of your business. Its subscription button will connect your leads to FeedBurner, so you can update your potential customers about the latest happenings of your to-be-launch adventure.
Launchpad is a free WP plug-in that makes it easier to create a rocking 'coming soon' landing page. It comes with a countdown timer that will tell your audience the exact time left for the official launch of your online business. This theme is completely responsive and it offers other valued features that include newsletter subscription form and social integration buttons to help you tap into bigger pool of audience.
One of the most sought-after WP plug-ins, SeedProd gives you more freedom to make a dream launch. It comes with several newsletter subscription integration and connects you to other leading email service providers. The good thing about this WP plug-in is that it gives your clients a bypass link to your website. So, they will be able to view your website even when it is under construction. SeedProd provides social sharing and referral tracking buttons that help you drum up promotion of your business in the world of social media.
Easy Coming Soon is yet another plug-in by WP that assists you in creating an easy-to-optimize 'coming soon' landing page. It comes with a free template that you can easily modified to meet your requirements. For advanced features and controls, you can subscribe for a paid version. It works with majority of WordPress themes. Even for an education writing services, you can create a tempting landing page that looks equally attractive to your audience.
Want to create a 'coming soon' landing page that can lend credibility to your startup? Then choose Verko. The USP of this design is its appealing and responsive visual elements that instantly capture attention of your leads. It is a one-stop solution for your next online project as you can get everything in place for your under-construction website, whether it is about optimizing CTC buttons or integrating newsletter sign up form.
Staruply is one the most versatile WP template to enhance your online presence. It looks amazingly fantastic and offers range of features for an upcoming business website. Some of its best features include: compatibility with multiple browsers and easy integration with Bootstrap 3, CSS3 and HTML 5.This super-cool WP theme is highly responsive and your leads can easily access your site on any mobile device.
At $16, you get a fantastic WP theme that is wonderfully appealing and amazingly usable. Based on Bootstrap framework, it gives you more control over promotion of your newly-launched website. Using this exclusive template, you can even embed a video, image or even a presentation to add more weight to your brand promotion. Moreover, you can hook more leads with its newsletter sign up button and social media icons.
With Magnium, you get 100+ built-in pages, 15+ plug-in and 10 color schemes. This WP template optimizes your website with Woocommerce which means you can blow trumpet of your eCommerce website even before its launch. With its customized Coming Soon Pages feature, you can replace the front-end design of your landing page with a countdown timer. So, your leads will know when you will be available to serve them.
So, if you want to create instant hype of your newly-launched website, use these resources to create that perfect 'coming soon' landing page.