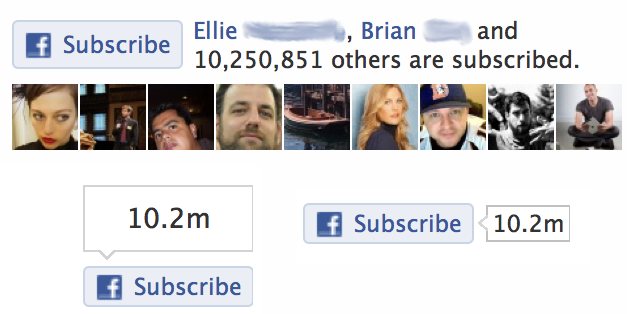 This module will automatically add the Facebook code for Facebook Subscribe button which will be displayed in the block and each page node.
Benefit
Size, position, weight, color scheme, font, etc., are all completely customizable by site administrators.
Administrators can also control which content type(s) the Facebook Subscribe button will or won't appear on, as well as which role(s) are allowed to view the button (regardless of whether or not the user is logged into Facebook at the time).
Along with a Subscribe button appearing for each node, there is an optional block that can be set to appear on each page.
By default, the button will only appear on a node's "full" page view. This option is also customizable, however, so that the button(s) will show up on teasers as well.
About Facebook Subscribe Button
Using this button, you can let others subscribe your public updates on your profile.