Submitted by

alex

on Fri, 01/16/2015 - 09:49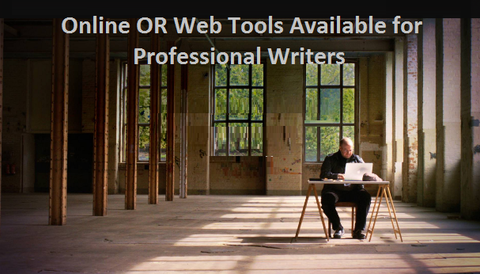 When writers wrote in the past the best friend which they had was the pen and paper, or possibly a diary. That's all changed now, there are web numerous tools out there which are designed to provide writers with a whole lot of writing assistance and more.
Here we will have a closer look at some of these web based tools which have been developed and which are constantly developed to help Professional writers. Based on these findings you can draw your own conclusions as to the ones that are most suitable for your needs or not, all of these are designed to meet the different needs of professional writers. The technology that they all present is designed to be as unique and individual from each other as possible, as a result there is a wide variety of web tools that are all designed to meet different requirements.
1. Mellel
Another word processing tool which is designed with some specific tasks in mind, some of these is to provide the writer the ability to cope with handling a large numbers of text documents simultaneously. The specialties that you can look forward to using this word processor are the ability that it provides you when it comes to writing complicated manuscripts, book or novel writing, desertions, documents, papers and the list goes on.
2. Ulysses
Here is a great text editor which incorporates non linear text and is semantic text editing. Some of the greater benefits that this fantastic online tool offers are the multiple document with the added facility of project notes, features that promote the presentation of content, group and document collection and a whole lot more. This great tool is designed to give the author and professional writer the added advantage.
3. StoryMill
Story mill as the name suggests is better suited to novelists and those who are writing similar content, with special features designed to help you keep track of your storyline and characters and also the most important aspect, your timelines. This is very specific software which is designed for a specific task which it performs beautifully.
4. Scrivener
Here is another great piece of technology for the writer, the online software is particularly well suited for the professional writer and has the ability to provide users with features such as script writing, novel writing, screen plays, and other similar types of content.
5. Storyist
Particularly good for authors who write stories, this is a web application which is designed to provide the user with some of the best options that are available to writing stories, scripts, plays and novels. There are numerous features which enable the author to organize the script and story line to produce a master piece, this is the reason why this is one of the most popular software's among authors.
6. Script It!
Another great application as the name suggests which is pretty much designed after what it does best, and that is script writing. However, this is also an application which can handle other writing and is not limited to just scripts. It allows the script writer to plan scenes, characters, ideas, and put it all together in an organized and professional manner.
7. Mariner Writer
A very good alternative to Microsoft word, this tool offers the user with enough features and facilities to enable them the flexibility that they require when they require it. The greatest feature that it boasts of its simplicity, it doesn't come with features which will overwhelm the writer, it keeps things effective and simple.
8. Nisus Writer Pro
Nisus writer Pro is designed to allow the writer and author with the freedom and flexibility which they require, when it comes to producing creative manuscripts and documents. This is a very powerful online writing tool comprising of hundreds of convenient and user friendly features, perfect for the author or the script writer. Features the writer can look forward to are footnotes, end notes, tracking changes, cross references, multilingual support, and the list goes on.
9. Celtx
A great and free only tool, with multiple features that are designed to suit almost every kind of writing, this is one of those tools which was designed keeping every kind of writing in mind, including novel, script, music, documentary, novels, comics, theater and everything else.
10. Final Draft
For those that are looking to getting into script writing and stage plays etc, this is the professional software that you would require for the purpose, built specifically keeping this in mind. There are a number of features that this software provides the author enabling them to produce manuscripts and more which are designed to perfection.
11. MicroSoft Office 365
This is a fantastic writing and editing tool for professionals which provides users with all the features that they require for creating different kinds of text. It offers templates, headers, footers, different file formats and a lot more. One can find a lot more information related to discounted software's on MicroSoft Office 365
12. Pagehand
This is an awesome tool which provides the user with some of the best options such as more effective features which is designed to provide the user with a faster writing experience.
13. iTexPro
Very effective for writers with a rich variety of tools that enable you to write a lot of content in the timeframes that are required.
14. Compositions
Provides you with great features and functionality, this is a free app for your Mac, and this provides you with attractive features such as text editing, and sync notes with the drop box etc.
15. World Book Notepad
One of the most outstanding features of the software is the fact that it is extremely affordable, however it does lack the word count and character count option.
16. Bean
This is a well known tool that offers users with great functionality, it possesses all the features that are required to create text documents. It's a free app and is very popular.
17. Byword
A very popular writing tool, it offers the user with numerous features and is very effective and efficient. In addition to this it is also considered to be very powerful and offers the user with versatile functions.
18. MarkMyWords
A very complex and feature rich writing tool, it offers users with a vast array of advanced options that are suitable for any type of writing.
19. Marked
The highlight to this is that it is affordable and this is something that can be used by those that are interested in getting the best options that are available for writing.
20. Macchiato
This is an effective writing tool which offers the user a plain text editor and it also automatically formats your text as you type.
21. Journalite
This is a great editor and is very affordable; at less than four dollars it offers the user some great features & facilities such as the two window workflow etc.
22. Writeroom
This is a great tool for those that are interested in using full screen mode. It offers a great deal of features that are very useful for creating various different types of text.
23. Ommwriter Dana 2
This tool offers the user with a number of services that are available such as great full screen writing capabilities and soothing sights and sounds to accompany your writing sessions.
24. IA Writer
This is a great full screen text editor, and it is also probably one of the most popular tools that there is at the moment. It is effective and very simple to use.
25. Clean Writer
Provides a simple and effective full screen writing experience, arming the writer with great writing options and it does have less complicated features that are associated with it.
26. OmniGraffle
Offers the author with some fantastic features such as outlining storylines, and it is designed to help you brainstorm and come up with a great story line.
27. SimpleMind
Simple mind also designed to provide you with a technical aid to getting your story clear and coming up with a great script.
28. Writer
A great application which is designed to provide you with the best writing options in full screen and also very decent functional tools. It is also very reasonable and affordable.
29. Tree
This is a great tool that offers you the functionality that you would require to create a great story line and script, along with writing the perfect story.
30. Papers
This is designed to offer you the perfect functionality no matter what type of content you are creating. It offers you with search utility also enabling you to do research while writing.



About the Author -
Alex, a content marketing expert has years of experience in marketing and content development. He works with Freesoftwarediscounts.com as a content marketing consultant.